Ok by popular demand I'm going to write an evocation guide for my readers. I personally enjoy a temple full of tools and such but…when I evoke outdoors I don't use all that. So I'm going to write this as tool free as possible.
Mike B's guide to evocation
What you need
Three tea light candles ( or just three candles) , a glass of water, incense, the seal of the spirit you are calling, your notebook and pen.
Optional: pendulum or tarot cards, a cigarette. Your phone.
First prepare eight to ten questions for the spirit. If this is a meet and greet you can ask things like "how can you help me, will you agree to work with me in the future" , ect ect.write these questions in your notebook with enough space below the question for the answer to be written.
Second prepare your spirit seal. Using a CD draw a circle and take a coffee mug and center it inside the circle to make a small circle inside the first circle. Then trace your seal inside. Take a look at my seal of Zepar. The outer ring is the CD the inner circle is the coffee mug.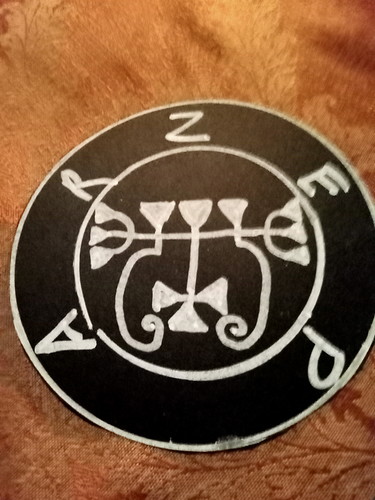 Expect to fail several times lol.
Once you have a serviceable seal. Doesn't have to be perfect to work. We move on to the next step.
Now you can do this ritual outdoors and indoors.
You will be standing for this ritual but make sure there is a table nearby to write on.
Place your candles in a triangle approximately 1'x1'x1'/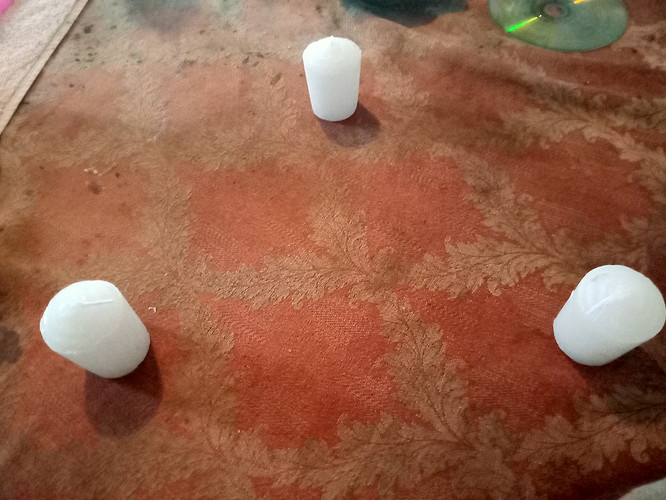 Place the glass of cold water to the side of the triangle and place the seal inside. Place the incense of to the other side of the triangle.
Light the candles and incense you're ready.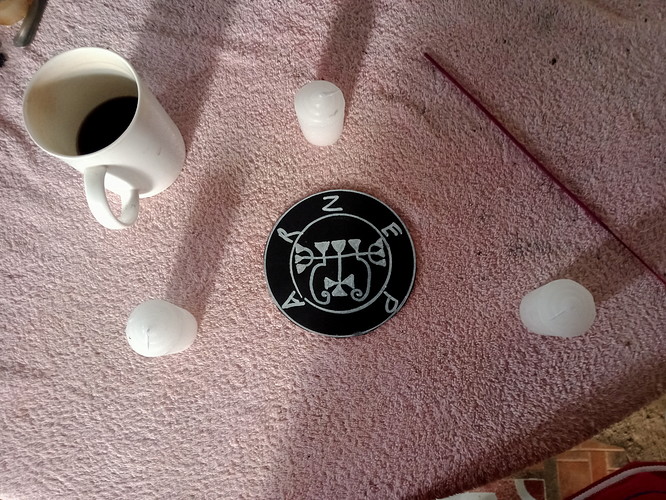 Preliminary banishments
Walk in a circle three time ( can be turning in a circle too) clockwise say " may all ghosts, shadows, and shells leave this place and do not return"
Perform the LBRP. Lesser banishing ritual of the pentagram or a suitable substitute.
If you can bring out your phone turn the notification on silent and go to YouTube for the appropriate enns chant. Play this full blast. Remain standing. Gaze at the spirits seal while chanting the enns. Do this over and over in an authoritive voice. Plan on 8-10 minutes of this or when the following starts.
The seal which your eyes are focused on will begin to move and wiggle, the lines will shift and colors may flash. The atmosphere of the room change and you'll know something is watching you. You have now made a psychic bridge with the spirit. It is now time to conjure.
First let the enns continue to play on your phone in the background.
Say "hear me and make all spirits subject unto me so that every spirit of the firmament and of the ether, on dry land and in the water, of whirling air and rushing fire and every spell and scourge of God will be obedient unto me, hear spirit x, and come forth from whatever corner of the world you are in, put on a fair and pleasing shape and answer my questions in my mother tounge hear me! (Don't forget the authoritive voice please)
Next point your two fingers at the seal and repeat the following. This is E.As conjuration.
Your going to feel the psychic pressure hit the roof and there will be a "pop" sensation mentally when the spirit comes through. For me I get about two repetitions through the above conjuration and I know it's here.
You will know when the spirit is there, you'll know.
Next…now what do you…
First
"Welcome spirit x, I am mike bee, are you the spirit called x? - get confirmation from the spirit that it is the one you wanted. You will sense this mentally or you can use your pendulum to determine. Always address the spirit by its rank title first. Like don't say spirit Orobas, say Prince Orobas. This a courtesy and respect you are showing the spirit, treat the spirit as you would a royal guest in your home.
Second
"Sorry for disturbing you, but thank you for hearing my call, I present you with gifts " - glass of water, incense, perhaps a cigarette. Do not smoke the cigarette yourself but light it for the spirit and let it burn in the ashtray.
Third
Get your notebook and look at your questions you prepared for the spirit. Ask them what they do, how they can help you. If you can't hear the spirit ask yes or no questions and use your pendulum. Or better even trust your intuition with the response. You can also perform a tarot divination at this point if you wish. The spirit will be speaking directly into your mind or to your intuition. Write down any thoughts feelings or impressions you receive. Do not analyze the material until after the evocation. Just let it flow.
Fourth
Get a commitment from the spirit that it's ok to call again and that you can work together in the future.
Five
Grant license to depart.
"Spirit x I grant you license to depart, return to your home or abode in a way that none are harmed and may the peace of God ever remain between us, I bless you."
If you'd like to banish again I recommend doing so if you're indoors not if your outdoors.
That's it now take your seal and trace counter clockwise around the edge of it three times and store it face down for storage.
You've evoked your spirit.
P.s. edit watch your dreams for a few nights subsequent to your evocation. Spirits will often communicate through your dreams.
@Lady_Eva Can this be moved to a new thread?