This is a very short and simple share of the banishing methods I have used against the current problem some members seem to be having:
Assertion Of Authority
I have successfully banished this thing by using the statement:
"In the name of the Most High I command you to depart"
Note that this is NOT about "god" as in desert tribe monotheism, it's a call upon the most powerful aspects of the self.
The LITERAL Living God Within, in other words – the highest aspects of the self, however you conceptualise it.
I did a post about that here a while back. I wrote the post still buzzing from the work so it's a bit rambling, but it conveys what I was trying to get across.
Symbol:
As a first recourse, this symbol, which is an equal-armed cross and which pre-dates the Christian symbol, will work effectively:

It also hates swastikas, which in case anyone is confused are not the creation of nor sole property of NSDAP (the Nazi Party) in WW2, they are an ancient symbol found around the world in ancient archaeological sites and used until the 1930's by all kinds of people, in all kinds of ways, as an auspicious symbol.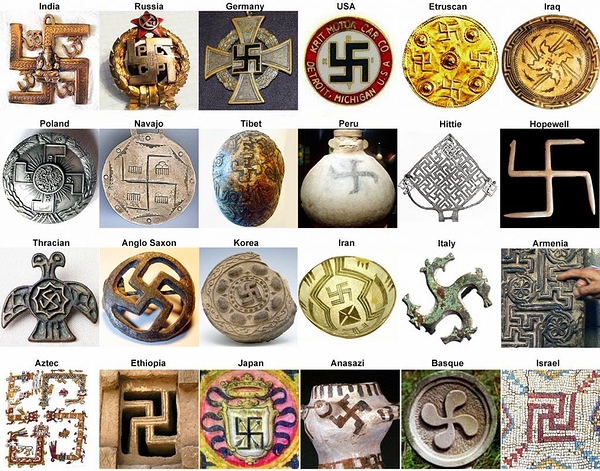 They're a general-purpose symbol that were often used on liminal spaces like stairwells, gates and walls, boundaries, also bowls (see the ancient custom of trapping spirits IN bowls and crocks, also using them to hold divinatory liquids, they seem to serve in some ways as liminal spaces as well).
Ones oriented straight (again, a deviation from any links to WW2 for those who would be concerned about that) like the USA badge above seem especially powerful against this, and visualised in either gold or black seems to work best for me.
I carry one written over my own business card as a talisman right now and also visualise them to banish.
One more statement that this is NOT repeat NOT linked to National Socialism, "racism" or anything political, this draws on a far older custom.
Iron and steel also appear to be helpful in grounding energy, and it's no coincidence that the cross-like and circle-cross symbols the swastika echoes are ancient symbols of Earth and also, the most primal representations of mankind ("stick figures").
Other Things:
I'm going to link the following basics, they're reliable and worth running as well as other methods:
Basic Limpia - this does NOT need to be done with Xian prayer, use whatever substitute you choose, including the name of the Most High

What's normal? - walk-through in creating wards

the method of banishing with light described in this video: https://www.youtube.com/watch?v=jGoiiHZOiPc

this method of binding in darkness as an alternative if light is not your preferred medium right now: "In Darkness Bound" And The Psychology Of Demons

make sure that any Tarot decks, spirit boards, and other methods of divination that can also act as portals are either wrapped in aluminium baking foil, or inside a tin - this is actually good basic practice for any kind of unwanted contact, and I personally keep mine that way all the time when not in use.
This is what has worked for me, and is what I use myself.