This is directly translated from Belial and Bel Zebulon.
The information relates to harnessing your power sources and where it is placed in the body and hoe the three elements fit.
*Bel Zebulon
To begin. The face is a direct copy map of the rest of the body: this is how it looks.
The Wadjet is the Dragon Eye:
The Eyes are the breasts:
The nose is the filter the same way that the Centre Of Man is the poeer house, thr storehouse filter of your chi; the liver. And the dan tien known. and describes as the centre of man because that is where we house and transmute.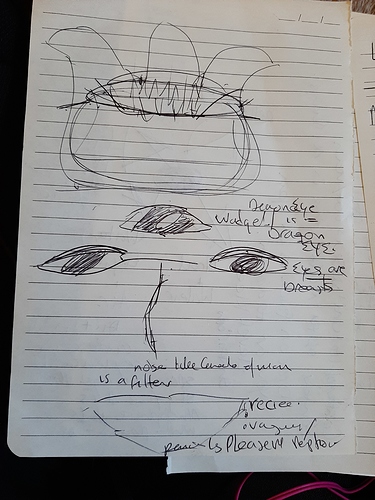 The lips are the equivalent of the vagina /penis wherein your pleasure centres are noticed. Also descriptive of receiving and giving: void creations.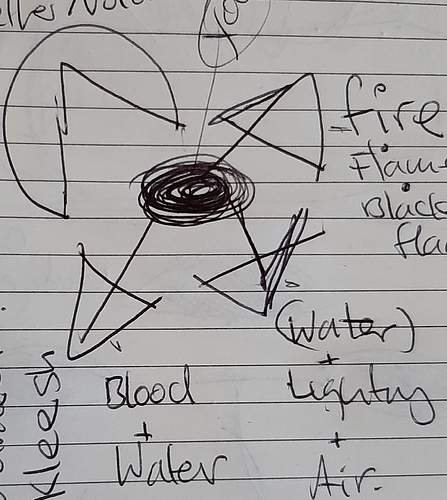 Blood +Water
Water + Lightning + Air = Water
Fire + Flame + Black Flame
The Centre is You.
The top left is Void / Äther / Aether
"Air and moisture condensed and sequenced to spread amongst the sky force. It is Atmosphere. It is flows and flies".
"The darkness which is in you is the void it is the electrical spark in bedded between your Cells. It is in your blood.
As the sigil describes.
"Center of the 'uni'verse is god / man.
Center of the' multi'verse is All Things.
Dracon Force is in You. You are the Dracon. Elevet kleesh. Shakar'ah".
*BAEL
"+Place your Eye on your Solis Box. (where the solar plexus was)
+Place your Eye on your vagina
+Then Merge them.
+Black fire [and] step into [the] darkness
+Focus on each one and see the Eye as connected
+Electrical lighting fire through the pineal gland and through the vagina [and] from the Solis box. (where you are now focusing your power)
It enhances them all".
This example was (obviously) performed under Bael's direction. So it is written this way

.
*Belial
Belial usually teaches Me during possession according to the Gatekeepers its quicker
.
As in previous threads of mine, the topic of how and where power is stiref and expressed.
Power storage is i. The Centre of Man. The centre is a Mind the brain: hypothalamus, pineal, zeal… are also the Mind.
So is the womb, the sexual organs… Are also a Mind.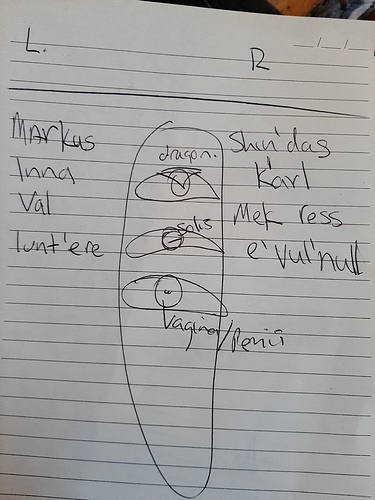 There is more. So much information on this topic that it cannot be placed in hete right now


I am by no means the Only Sourcerer to discuss the power storage of chi and how it is expressed outwards in magick.
[[ ##My thread is here for a Perfect reason… Do Nobody change it. ##]]

The power drawn up from the Center, from the Liver, which Is the Heat storage, it is why ut is called Solar Plexus and Solis Box, which is the same thing.
You push power out through your Eyes
preferably all three-
And your Voice.
-another reason why singing or intoning or vocalised (the whisper / sotto voce).
It is also expressed through your hands ( or tendrils).
Power is drawn up through the reception of the Vagina or expressed through the penis.
(and ni this dose not belong in the sex magick area)