How this all started.
Recently i've been having strange dreams where there is a new energy current running through my subtle bodies and physical body, it seemed so advanced so powerful and so ancient, i kept hearing azazel's name and belials being mentioned so i summoned Azazel this is what revelation he had for me.
Dialogue Of Azazel During a Evocation.
Azazel -
" There exists various energy pathways within the human anatomy spiritual and physical, one is called The Infernal Dragon Currents. This current is made of pure power of the infernal dragon force, when activated the individual heightens in every way imaginable. "
" Fear not for this power can be controlled only through another death in the lake of fire, we shall call the infernal dragon to rebuild you, with the infernal river as blood. Once the current is awakened the very infernal current which runs through the body, the current being the veins and the power being the infernal blood ".
" I break many oath's revealing this to you but it is imperative for your ascent, you shall be as the formed abyss, a vessel of pure raw infernal power ".
" When activated your spiritual senses go beyond what you thought possible, your energy system will become a demonic nexion, for those who feel the calling for power, then i await them, belial awaits them, the dragon awaits them ".
" When the current is mastered you shall be absolute, know that the current river which flows through all of existence called the lake of fire, will then flow through you ".
" When the system of this current is worked upon then upon your forehead, a infernal draconic eye will open, this is the demonic upgrade of your Ajna Chakra ".
" Become the infernal itself, IF YOU DARE, Become the dragon, IF YOU DARE "
The Diagram Of The Infernal Dragon Current Of Power.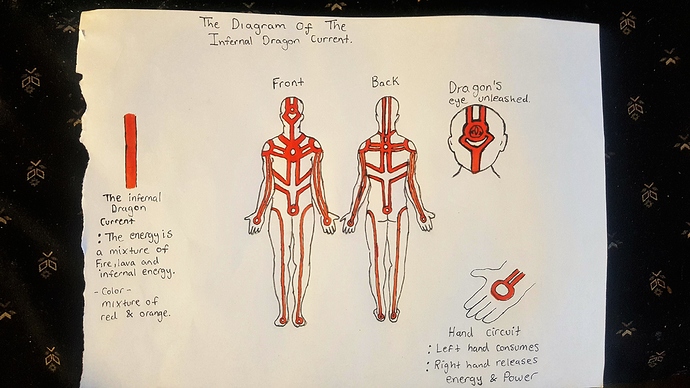 This new energy pathway allows the infernal river which runs through all of existence to run through him, you become the infernal empire incarnate, this is a new stage in our evolution Belial and Azazel have opened a path to me of becoming.
A path of demonic majesty a claim to total hellish power, i will share the workings on how to obtain and develop this energy pathway, i give to you our new evolution WE ARE THE INFERNAL.
Sincerely
Conner Kendall.