Wow. A new one! Well, I'm up for a trade in this one since the other one closed

.
I'll trade you. I haven't done one in a while so I need the practice.
Want me to do yours first?
Sure. Sorry I was out and about
Okay it's been sometime since I've preformed a scan so make of it what you will. I saw a being with a red aura sitting in a small boat that was on a calm sea at night. The stars in the night sky were bright but I didn't recognize any known constellations. I'm assuming the being was you. I couldn't make out any features. After this I got flashes of large serpents. The way they moved wasn't exactly serpent like though. Reminded me of how Chinese dragons are depicted flying very graceful and smooth. It was just blackness with these two serpents moving about.
The two "serpents" might have been symbolic for Kundalini since that's often depicted as two snakes/serpents/etc. Thanks!
Your Scan:
When scanning you, I see an image of a man (I don't think he is you though). He is kneeling down on one knee with a sword in his left hand that is raised into the air above his head. In his other hand he holds a torch. His head is looking down, so I am unable to see his face. I notice that his body is half greyish-white and half black. He has wings on his back. 2 sets of them which makes four wings total, with 2 on each side of his body (right side, left side). The 2 wings on the side of his body that is the greyish-white color, is matching in color. The wings on the side of his body that is black, are also black. His body is very symmetrical.
I'm getting a sense of balance, justice, warrior, and a sense of being of both worlds/in-between.
This image describes what I meant by him being half and half (color wise), it doesn't desribe his physical appearance well though.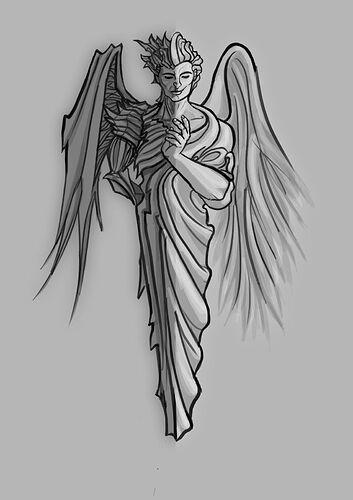 Interesting because balance is something I've been working on. Balancing the dark and the light in myself so to speak.
It seemed symbolic, the man. You also might be getting some help (from spirit) with that too.
Interested in getting a scan but i dont know how to do one so i wouldnt be able to scan.

I would like a scan, however still trying to learn how to scan so unable to scan back…
We all used to not know how to scan, that's why you should practice. People are more likely to scan you if your willing to trade.
Yes. I've worked with Lucifer on this.
YAS! Ready whenever you are. Do you want me to start or do you want to begin?
Long time we didnt trade
, lets do it if you want