Stub to move a new conversation into from this topic: Starting a coven
Wiccans are just edgy Christians in my opinion cx
back times three is bullshit tbh
Talking about the Wiccan rede or is there something I missed
back times three the Wiccan code of don't do black chaos Magick because karma gets you back threefold
Oh yeah thats bullshit, not how it works
dude I've done evil and questionable things in my past still no karma getting me back threefold
Same here, karma just doesn't work like that. Its all internal. I think if you feel bad about it it'll come back. If you don't it wont
Wiccans don't even like evocation, they think it's insulting to the spirit.
the Wiccan star isn't even correct it needs to be upside down lol
No that's right. The point-up one is the pagan symbol of protection. The point-down one is for Lucifer or something - they mean different things.
Rule of three works fine if someone sends something negative to me though… I'm not very patient with people that bother me

well as someone who works with Satan and is a black magician the upside down pentagram is the correct one
Oh I see. You were making a funny. Ok. My bad, my humour radar doesn't always work.
I do the same stuff but I prefer the upright version. I like it better.
I like the upside down one since it represents baphomet and the goat of Mendes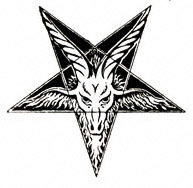 I use them interchangeably, depending on the working at hand.
I generally wear both, and use a reversed pentagram inside a normal pentacle when I draw it on books and talismans. As far as I know the three fold law is a well meaning lie at best and a literal curse at worst
I dig baphomet.
I have a ring depicting his goat head. Have yet to do anything with it but I ought consecrate it at some point.

An it harm none, do what ye will. That's the rede.
What you're thinking of is the rule of three. People get that confused.
Do you know the true definition of karma? If not, it's cause and effect. I.e I smoked pot, therefore I will get high.
It's called a pentacle.
Where did you hear this?
LHP symbolism for sure. I've heard that it represents the physical realm over the spiritual.