Azazel is such a darling🖤
Oh hell yeah! This is exactly the kind of thing I've been searching for! A detailed step by step to work with! I cant wait to try it out and post the results, although itll probably be awhile since I have a pretty bustling life that doesnt leave much room for personal time.
Thanks again for posting this, I'm pretty damn excited now.
Wow I have enjoyed this so much and learned the best meditation I have ever tried. Thank you for sharing you knowledge.
Estelle
Welcome @Estelle. Please take a moment to post an introduction in the NEW MAGICIAN AND INTRODUCTIONS area, and tell us a bit about yourself and any magical experience you may have. It is a rule of this forum.
Thanks Estelle, I'm glad I could help, Cheers!
I heard a voice after merkaba meditation and was in a deeeeeeeep trance.
"Congratulations not many come here -"
When i tried to speak it ended
Been looking for answers ever since
I just found this, gonna try it tonight. Thanks @AdamThoth. When you have descended the staircase and visualize your body disintegrating, do you still feel your physical body and try not to think about it, or should you be almost devoid of physical feeling? As to the 3 sun meditation, since I'm good at visualization with detail and clarity, can I streamline the process and just sit back, get as relaxed as I can and go for the staircase and void? If the suns are necessary, how fast can I do that ( as in, does it have to be a slow visualization or can I just go thru the stages at a moderate pace and proceed? Chronic pain and panic disorder are bitches that make stuff like that and holding the blank slate, quieting my mind, etc… for prolonged periods hard. My RXd meds help, but I'm seriously under-medicated for chronic pain and it's pretty nasty)? I'll most surely be asking you more questions on this as I practice it and try developing my own "tweaks" to make it the way that works best for me personally, but this is a great place to start and some of the clearest, "makes sense to me" instructions for meditation I've heard and read. Also, I'm 45 but have the attention span of a hyperactive kid, so what are the best ways to keep music and random thought from pulling me from the needed trance? Oh, BTW, I have been trying to, and having some success with making contact with Marquise Orias. I can often feel his presence, but haven't mastered full on evocation yet. Can entering the void help me speak with him telepathically, hear him, and the like? Thank you again
Do whatever works for you best. Binaural beats helps some. Yes this helps with contact.
Great job! This is really informative and in my opinion a great start for beginners. It is really hard to find step by step guides as detailed as this. I think I will give up on my current trance meditation and use this instead. Thank you!
Also… @Lady_Eva please pin this so more people can see it

Lets continue helping eachother~
Looks like Lucifer but disconnected
I did this meditation a few days ago and when I tried to control my breathing a small vibration was coming out of my throat, after this I was sufficiently immersed and managed to silence my breathing but the vibration was still heard and accompanied me throughout the meditation. Is this part of the development of clairaudience?
It's never happened to me before but everyone is different and has their own experiences so I say go with it and see where it takes you it's definitely something to do with your throat Chakrah possibly a blockage, try to investigate further.
For those that do this regularly:
Why not expand on it? When you go there, try using the energy to manifest something. Remember, one of the things the void is regarded for, is the center of all creation and destruction.
This meditation is amazing…the first few times nothing happened, and then I made it a point to try to open myself to belial. The meditation paired with his enn, I heard "can I show you something?"
As I'm still beginning to discern my thoughts from spirits, I was unsure of this at first. The session ended and I tried again the next night.
Then I got this symbol through the static behind my eyelids, as though I was ready to be shown.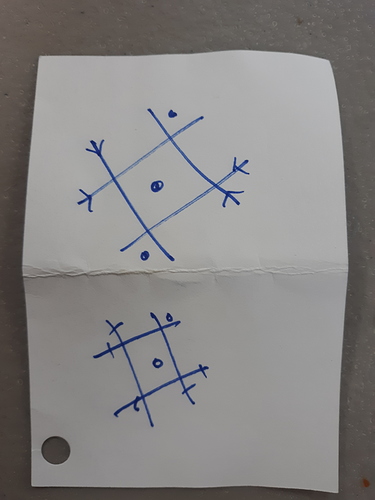 Linking my posts together for easy reference for myself and whoever else might finally useful.


Thank you for this amazing meditation I'm gonna do it today
Holy shiiieeeetttt…ahem. I…kind of tried this method in that I mean I wanted to give it a shot or at least get the order of things somewhat downpat, and while I did get to the 2nd sun/moon (kind of hard to get the thoughts to shut up and go away) I heard a guys voice!!
Now I dont remember the one word he said was before I snapped out of it, what I do remember was how amused he sounded when he said it. Like a good genuine sense of amused is what I got from the encounter.