I keep reading posts by people questioning if magick is real or not and expressing disappointment and disbelief at every "failure" they may have during their journey. Some people quit just because their magick "doesn't bring results".
Listen to me when I tell you this IT'S A SHAME TO QUIT JUST BECAUSE YOU FAILED.
You mean to tell me that if you failed a job interview you'd quit searching for a job? Failure is a part of everyday life, a necessary evil and crucial to one's ascend, no matter how stupid it may sound.
Magick is real.
I will use my personal example, since no matter how much I tell you that it is an actual thing that could give you immense power over your life, at the end of the day ,my words are just theory.
A little while ago, I did some sigil magick to augment my creativity and get better at art. I burned the two sigils I made and gave it time. I forgot about it.
Today, I was sitting in my room wondering what I should do to pass the time. I was in no mood for meditation , so I decided to draw something.
I decided to draw a female figure from a dream I had a couple of days ago.
The results were shocking.
This is what my drawings looked like before the magick.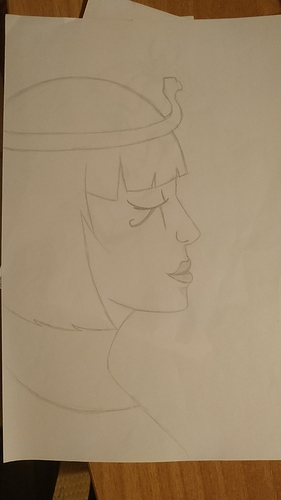 And this is the drawing I did today.
And, no, I'm not saying that I suddenly draw perfectly, but in a short span of 4 months ( during which I practised , but not extensively) the results were impressive and the difference ,well , obvious. Those results couldn't be achieved in this short period of time without magick. At least not for me. I've never been a good artist.
Not trying to promote anything here, just give you a little proof that magick is real and can help you. So don't give up! Keep practicing and you'll get better and more open!
Infernal blessings brothers and sisters