Where do you find all of this great stuff? I bow to your Google-Fu.
Thanks, Ladi Eva. I just downloaded it!
lol!! I actually don't remember, sorry - possibly by following an image in google images back to its page, that sometimes does turn up surprising things. I don't know who Terry Thayer is but hats off to him!

Hi Lady Eva
Thanks for that link, i saved it as it has quite a bit of information which maybe useful at some point. I signed up with the free trial today on the BALG site and have just downloaded the BALG Ebook which i am going to have a good read through.
It is pretty neat - I backtracked through my History and it looks like it did indeed come from me googling some of the sigils that are in it.
By the way thanks to Bran for checking out the copyright status, I wasn't sure about it and he did the research and said it was in the clear - appreciate it bro!

Wow, that is an impressive list!
Thank you very very much, Lady Eva.
I think in my spare time I will study this list.
A lot of this is archived so be sure to download a copy. The entires in black that derive from Reverend Satrinah Nagash can be found here archived: https://web.archive.org/web/20031120133423/http://colucifer.cjb.net/
For most everything on that list if there's not already a sigil there and if you need one you should be able to find it elsewhere on the net.
Very interesting note on Azazel. The angel that spoke to Abraham states that Azazel "Selected earth as his portion". That he choose it rather then having been cast down to it. It further suggests that this world was granted to him by "The Almighty"
I'm posting to bump this, 2017 - we've had a lot of new members since it was last on the front page, who might find it useful

[quote="Lady Eva, post:1, topic:4802"]This is the most comprehensive list I've ever found, includes sigils, and colour-coded by grimoire as well:
3.5mb PDF "Demon List Version II beta" 8-11-04 compiled by Terry Thayer.[/quote]
Nice, but be wary of these kind of lists; there is also a "Goetic demon list" out there which is incorrect at least partially.
Good God…
http://www.deliriumsrealm.com/GoeticDemonList.pdf
This is also very nice; but there aren't any free copies available as far as I can see…
---
Yes, it's always good to check, that PDF has short excerpts from existing grimoires rather than being hand-crafted, so there's the possibility that an error creeps in early and then gets perpetuated.
Despite being both purple, and on Tumblr (two things normally best avoided IMO!!) this site is a reasonably decent resource as well: http://littledoomwitch.tumblr.com/demon
From the PDF-
"Thoth- Being my Chief Guardian Demon, I have a tight connection with this God. He is one of the 7 sons of Father Satan and is a VERY busy God-" (interrupt mine)
Uhh…
Sure, buddy.
From the PDF-

"Thoth- Being my Chief Guardian Demon, I have a tight connection with this God. He is one of the 7 sons of Father Satan and is a VERY busy God-" (interrupt mine)
That's a Joy Of Satan thing: https://web.archive.org/web/20080206123756/http://www.angelfire.com/empire/serpentis666/DEMONSI.html/
THOTH also known as "Hermes" [Greek], "Mercury" [Roman], "Tehuti," "Ningishzidda," and "Quetzalcoatl" [Central America].

Zodiac Sign: Gemini- Cancer
Tarot Card: 3 of Rods
Planets: Mercury, Moon
Candle Colors: Silver, Red
Metal: Mercury
Element: Air
Rank: RECORDER OF SCRIPT AND LEGAL DOCUMENTS IN HELL; THE GRAND OFFICE

*The above information was dictated from Thoth, personally.
Thoth is a very high-ranking and important Demon. He is one of the 7 sons of Satan. He is the most brilliant and intellectual of the Gods. He is very likable, extremely charismatic, and friendly. He is the busiest of all of the Demons and it can be difficult to get him to appear in a summoning unless one is of importance to him. His wife is Seshat. She often fills in for him when he cannot be present.
Thoth is the True Father of healing and medicine. He is a Patron of doctors, nurses, paramedics, hospital workers, healers, and all of those who work in the medical profession.

All of us who have seen and interacted with Thoth agree he is tall, muscular, very well built with thick golden blonde hair and blue eyes. He is fair skinned. He wears his hair combed back and in a braid like Asmodeus, both have hair past their shoulders.

© Copyright 2002, 2003, 2004, 2005, 2006, 2015, Joy of Satan Ministries;
Library of Congress Number: 12-16457
This Xian site takes that and goes gaga with it, only worth linking for the image of a rather buff-looking Thoth/Dhjuty at the top, evidently not too busy to hit the gym!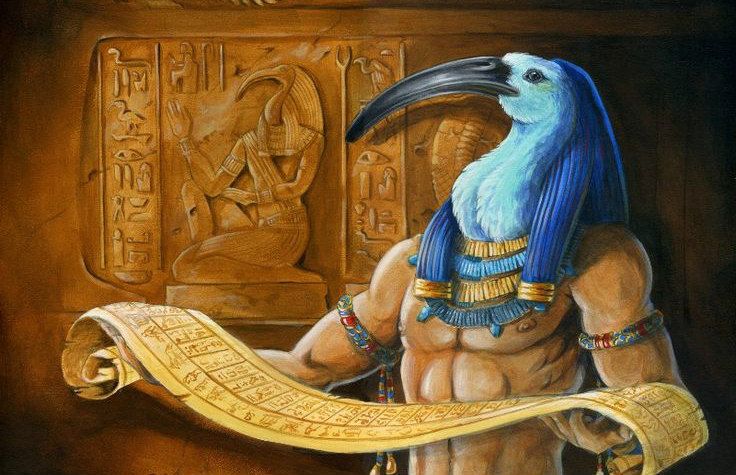 Thank you Lady_Eve for this list and all you do here.