So since I see so many newbies like me who don't know how to approach any entity! I thought I have to share this! It's just what I do. You call on someone but you can't feel them! The feeling of wasting everyone's time is killing me! How can you do rituals and meditations when we live in a busy world! I get it I don't trust my telepathy skills too! So this is my approach to contacting anyone. I contacted Lucifer just because I know he wouldn't mind helping out here!
This is a letter I wrote to him and since I write to him alot I see it easier to have a permanent active sigil for a mailbox

I usually draw the sigil on the back and activate it! But this is easier for on the go letter since the sigil stays active! Just burning it on in the glass like so!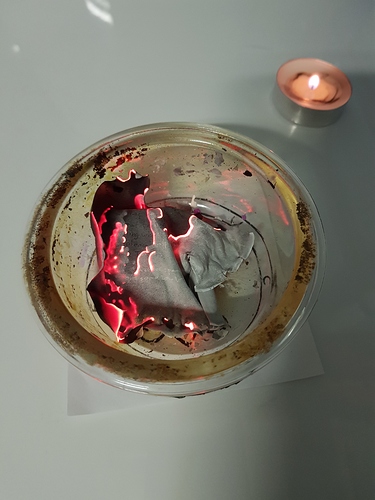 If it's a request and I'll put blood I have to draw the sigil on the back just to make sure. If i need him to tell me something he usually find a chance in my dreams or something unusual happens where I get some answers!
I find it easier to believe that you reached their mailbox atleast if you can't call them to you!
I did this for Angels! Demons! Spirits! And got some reactions so I believe it works.
I don't have any space for rituals anyways! Am using the toilet here! Just quickly burning letters and leaving a candle on the shelve afterwards. Then am out without anyone questioning it! If am burning more than a letter I need some incense burning too, just to cover up the smoke from the burned letters.

once you make contact you will feel the energy everytime you write
Dear Lucifer
!!

you will hear the "
yes dear
" like me lol! I question if I need to burn the letter now but I do it anyway to keep the connection going!
I hope this is helping someone. It's the intent and feelings that matters! And this just make you feel a connection.
Enjoy and hope you write tons of letters