Well i work in a governmental building and the core building as food service. And there literaly came the message of :
SLAVEWORK.
DO IT NOW TO CHANGE THE FUTURE.
DIE NOW AND BE REBORN AGAIN!
It aplyes to me as much as to you when you feel it does strike a nerve in you. For long now i longed to change the circumstance but im too much fokused finishing other projects first. The work will come so my time will come as per my hand and the hands of the old gods.
For now i work two jobs one under the weeks and over the weekends as a cook asisstant so im ocupyed with work nearly daily. I have cut ties with contacts that doeasnt serve me for the long run. Man and i even stoped a old years long bad habbit. I feel ultra sober now. Im rebooting and getting more and more control and grip of my reality and the buildance of my empire here on earth and beyond!
I will make it.
And when i have maked it!
I will provide the opportunity to do the same as me to other individuals who are keene to do theyre will and become liberated Lucifers!
ALLPURPOSED BLACK MAGICAL SIGIL OF ATMOSPHERE EMPOWERMENT.
So i peform my rites also a lot in my car and outdoor places where i dont necessarily have all my magical tools at hand. (you dont need one in the higher stages your bones become so much loaded with spiritual magnetism and energys it can serve very well as a knife and wand and any tool you need as of such kombined with your adept-ipsisimus mind-spirit and soul your doing magic 24/7 well youre already doing it dont need necessarily a high level just the impact would be varyingly different in intensity and purity of form as of results if you where untrained unkultivated and of such)
So i thought why not have at least a atmosphere thats more conducive and constantly empowering every more darker magical rite im doing. Where i dont necessaryly need to raise allways the vibrations in that way.
So ive called every dark forces and beings im in contact with to conjure up the universal symbol that serfes this Atmospheric purpose.
Here it is: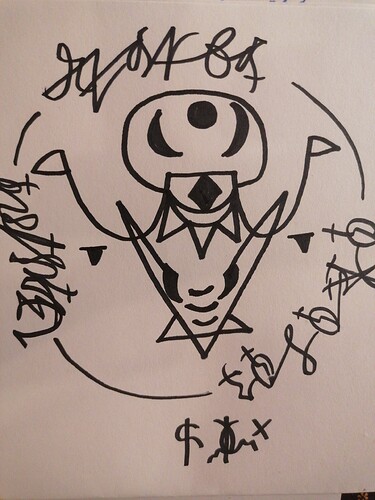 Just fokus on it the duration is per intuition put on it your blood and recite exactly 13 times:
AZARBA OKOLOS USUMA
after that it is concecrated for the purpose of transforming the atmosphere to be empowering and conducive for any and all black magical rites.Perfect for places like car temples, outdoor, litle rooms, and of such or just as an general power up.

LUX

ANGUIS

Sometimes thinks dont need a reason.
UNIVERSAL CIRCLE
For a while now i have the universal circle .As of now i imprint it with my signature with my daimon and my energys spiritually and physically with also incense offerings and blood.
I have a mixture of draconia/serpentine vampiric demonic energys in my daimon.
So as when its activated i saw a obsidian dark flame bursting out of it and stayed . I found it remarkebly when i activate it with my gaze after the imprinting that each letter became vampiric.Literally as i gaze uopn it i see how these letters are absorbing orbs and different kind of energys and after a while youl know when its satiated and than i stoped… very interesting.
I decided to destroy and deprogram my preconditioned chakras with Abbadon maybe ill release a working for people who feel that the modern chakra system doesnt serfe theire evolution and growth especially in the demonic left hand path field.