DRA'AL DEVILS
The last key are simply now the devils you will call upon, in wich i will reveal the rest of them in enough time.
For Draal Devils to work for you and you with them you do not need and it isnt a must to have the last two keys implemented in your Rites.
But again. It would be highly effective if you would cultivate them in your practices with them.
THE LAST TWO KEYS
.
1.
Lapis Dra'al : Aspectum Tridentum 1 Key
.
2.
Lapis Dra'al - Aspectum Tridentum the 2th Key
1.SAGMAON
Dedicated Sigil painting unto him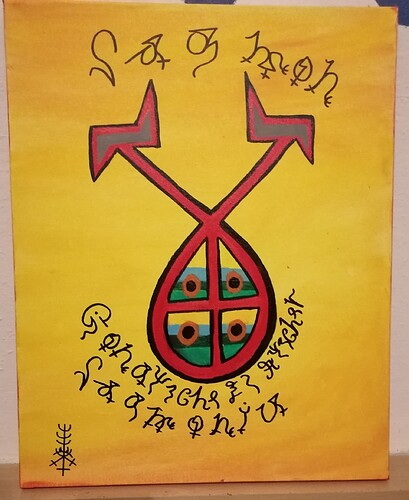 Dedicated drawing of how he manifests as by my expirience: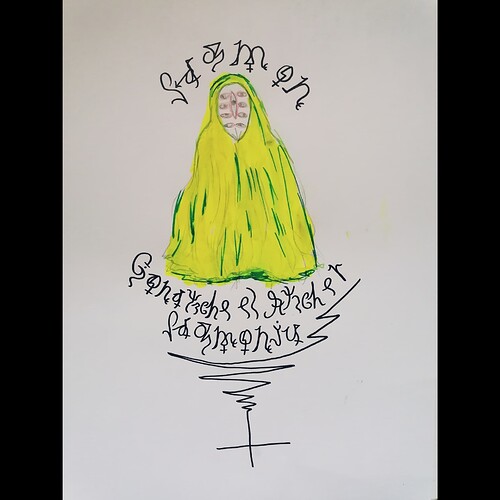 Name:
Sagmon
Elements:Air, Fire, Water (aproximately70%Air20%Fire10%water)
Zodiac sign: Gemini and Sagitarius
Channeled Numbers: 41,31,17,
Universal Draal numers you can aply:18,111,666,10,5,
Legion:
Lucifer
Colors:
Mainly-Yellow, Red, Black, Medium-Green, smaragd green, gray seldom-Blue-Orange
Offerings :Pink flowers, sandalwood(But he accepts any incense wich is honestly intended as a sacrifice) intended Attention and love towardds him, artwork, or his Mantra as such.
Note:
when you offer him a pink flower(any-and are his favourites as offering) you will feel a sudden shift of energy around the flower just like - - NOW ITS MINE! TYPE OF THINK–you will know what i mean. And if the flower is rotting or simply drained empty dispose it respectfully by burying it in the north or any place you are called to. If no posibility to do that type of think. Burn it in a oven. Or give it respectfully in the garbage bin in a box or somethin. All your efforts will surely be aknowledged.
MANTRA:
GONATSCHE EL ATSCHER SAGMONIU
POWERS:
Helps ignite ever evolving great implementive ideas of growth and prosperity also street smarts and working smart.
Bestows his cloak of protection unto people on theire chosen paths
Helps lastingly but also shortly empower and highten your psychic and spiritual powers-senses (By me it was lasting effect he can help you establish psychic sight and hearing pretty fast, maybe it was just a present for me i dont exactly know, but i know he can do this for you if he likes you and your efforts are true to him.
Work with him well
ᛚNAGA🐍BLESSᛋ
.
.
.
ᛋLUX🐍ANGUISᛚ
Hail and thank you Lord Sagmon!
Salve Dra'ale!
Agios o Aspectum Tridentum Nawan!
Hail Skapaan!