Introduction:
This is a starting asimilation point for my finished 666 spiritual project of Infernal Devotion.
There came A LOT of channeled information trough working with the goetic satanas, lucifer amaymon and the draconic-serpentine also a goat form of Capella Satanas(Goat /Earth/Fire) Draco Lucifer(Dragon /Fire/wind) Naga Draco Amaymon (Serpentdragon /Fire/Water/Earth).
Wich lasted for exactly 666 days.
It was intense and straining but fullfilling.
There came together 65 Entitys besides the further forms of Satanas(Capella satanas) Lucifer(Draco Lucifer) Amaymon(Naga Draco Amaymon) Shaitan, Mammon.
I plan on releasing 4 Spirits to the public and the working system (Depends on the communication between this demonic spiritual world and with me, if it becomes more or less)
So this is the portal wich is helpfull and empowering, working with the Draal Devils from Aspectum Tridentum.
PORTAL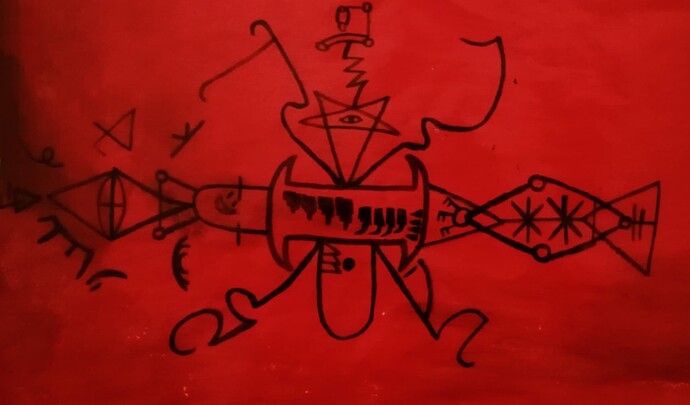 KEY RECITATION FOR OPENING THE PORTAL
EK MEI MA NEN.
SI MEI KA AK, VAVN EK NIMA ELISA ABBAMANA VIBININ OK MENTA AN SEPA LEM ILST.
VAVN EH MEK ACHN NE EMMENTI STA ELOM ME EN MA EK.
GRO PE NASENA AKU U MONNULAM MA E INA ASITH.
OVO AKAM MENA ALNET ZEMA IMINA EK KENVRA OSAM VELISAM AMENTI TA JELMA EMIN T OLLOSA ORVEN UMUK ENI ET.
Traditionally it should be repeated 14 times with intense focus and intend on the middle point.But if Intuition calls more or for less just go for it.
Offering Ingrediences wich can be used but isnt a must is, blood, sexual fluids, saliva, incense(any type but must be intended as a sacrifice of opening also the above mentioned ingredients).
Notes:
Original drawing