December 9, 2018
This day has been a very strange day for me indeed, I had planned to stay longer on the exercise but for some reason beyond me my mind wouldn't let me rest until I had gone through the exercises and the innitation itself. You see it was like being pulled by a magnet from exercise to exercise until I had experienced the innitation. In hindsight this didn't make sense to me at all and it doesn't but you'll see for yourself what I mean.
Exercise 2: after opening the chakras and channling the inidgo light from above, below and inside of me and direccted and pushed it to the ground and created the circle let's see say it's gotten more potent that's for sure. The flames burned fiercly not as fiercly as triangle but taller than before, above the kneepcap, and more wildly, this was more than see though. As for the traingle itself I once channeled red bordering to orange light/energy from above, below and from the inside and then while keeping the circle in mind just outside of it's border I projected he the energy and drew a triangle making I synched my breath while pushing power through the arm, projecting the energy like a laser. Once the triangle had been completed, it was fairly large and the orange flames with a red base burned very wildly internally, I kneeld in the blazing circle, feeling very much centered although I wasn't confident about the triangle a voice said it was a fine and strong triangle and that I should move on instead. I was very skeptical but I followed the hint and moved on immediately to the next exercise.
Exercise 3: in this exercise you call the watchtowers of the cardinal directions, each guardian is associated with a certain set of attributes as for what they are, you can find that in the book or through google. I will instead focus on the calling experience itself.
Before beginning this exercise I set up four candles, one in each cardinal direction: yellow in the east, red in the south, blue in the west and black in the north. After opening the chakras in the same I've described previously, I created the indigo circle and from there called upon each of the watch towers starting with he one it the south, feeling the attribute of the tower, mainly clairvoyance and intellect, I noticed my thrid eye awaken more solidly and my mind becoming more focused as a result, I raised my arms to the side forming a human cross I will say that unlike what I've said previously I didn't have the time to memorize the incantations, which is embarassing but true as I was rushed through this exercise. So I gave the call:
"Guardians of the watchtowers of the east I call you forth to protect and to bless it with your prescence, guardians of the watchowers of the east, upon the winds come."
To me they manifested as three beings clad in robes with the hands in their sleeves, the had wings but not composed of feathers but of energy, honestly looked very much like the wings of a video game character named Tyriel. They watched my intently as I turned my attention to the south and then tried to feel, violence, the passion above all else - deep hissing voice reached me from somewhere I felt air crackle and becoe not warmer but more intense like it was slightly electricly charged. I then gave the calling in the book on page 45 in the O.A.A - Discourses and Innitations:
"Guardians of the watchtowers of the south, I call you forth to protect this crircle and to empower it with your prescence. Guardians of the watchtowers of the south, upon the flames come."
Instead of hooded beings they instead appeared as an animal a wolf, bloodied from the mouth and down to it's chest, let's just say I had expected something else entirely. I just watched me standing in the snow that surrounded it in the vision I saw internally. There was blood in the snow like it had recently killed its prey.
The similarity with this image is rather interesting: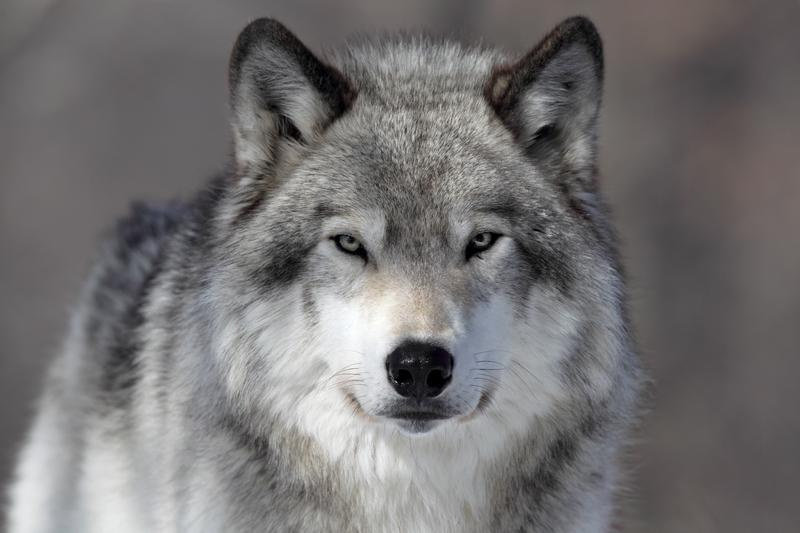 I then turned to blue candle (a light blue one). I stood still for a moment contemplating the attributes, mostly peace and water, as in what waters is and what if feels like, once I felt a sense of peace of washing over me I gave the calling:
"Guardians of the watchtowers of the west, I call you forth to protect this circle and to bless it with your prescence. Guardians of the watchtowers of the west, upon the waters come."
In this case I saw an eagle sweep down into the waters and catch a fish, which is something I didn't expect I thought that a sea serpent, a nymph just anything but not that. I later found out that the eagle according to some sources is associated with water, which suprised me and doesn't make much sense as it floats upon the winds but anyway. I ignored my overall suprise and moved on the the black candle in the north.
I had to be still and trying to ignore the overall feeling of tiredness in my arms which comes by holding them ourstretched like a cross, I probably could use some exercise, I know. North was really easy for me to connect to for reasons I will keep to myself for now. But it didn't take long for me to hear the sounds of birds chirping and I could see a forest mostly composed out of pine trees and I was standing in a glade were some mist had rolled in as it was dusk and green moss could be seen on the ground - all of the visual stuff is seen internally with eyes closed as I cannot project visions before me at this time. Along with the forest came a vision of some sort of bison very much like this: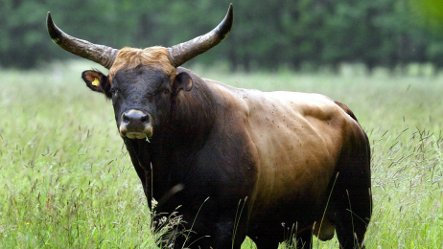 Except that it had longer hair in it's forehead and for some reason longer fur and more curly. This was rather fascinating I've always liked bisons as they are not helpless but strong and resilient although they know how to be lazy and enjoy life. And with that I gave the calling:
"Guardians of the watchtowers of the north, I call you forth to protect this circle and to strenghten it with your prescence. Guardians of the watchtowers of the north, upon the earth come."
The prescences of all of the watchtowers soldified around it was like from where four lines just outside of the flaming circle made themselves known with a solid mass, not and not cold simply a energetic pressure is the best way to describe it. Returning now to the eastern point I gave the final calling, which you will have to find in the book but basically you ask them to be your guides and that they protect you, while you pledge yourself to continue on your journey. Normally you'd dismiss the watchers with a downward sweep of the hand I didn't do this, I for some reason felt it wasn't necessary so I banished the circle and blew out the candle and invited the guardians as they stood there into my life and blew each candle starting from the east. Their prescence dissapated one by one as I invited them in.
I then was pushed by a voice inside me that urged me to move on despite me feeling that I shouldn't really as this was my first round and I am all about perfection, not today though. I hate saying this but its true as far as this exercise it was a stumbling block on my part yet I somehow succeded. You follow your intuion and don't do what I did on a whim because I could screwed myself up greatly since I missed to do the dismissal and follow along with this impulse of mine, so what I'm saying is be sure that you really feel with every fiber of your being that you are ready to move if you don't have a teacher to guide you that's it.
Innitiation recepit of the 3rd flame
So I left the extinguished candles where they were and created the flaming circle once more in addition to calling the guardians. You give the calling with the circle as usual along with the callings outlined above, while facing the cardinal which you are narturally drawn to, for some reason felt like doing it in the south despite being more of an earth personality in general, I know weird right. I should also that the guardians of the watchtowers appeared to me once more however they were really different from the first round.
In the east they appeared as before that nothing new. In the south they appeared as one being having a hooded appearence with a cloak made out of flames and an armor akin to one that knights use to wear back in the day, it held a sword directed at me surrounded by blackness. In the west it appeard as one being as well standing upon water in what appeared to some kind of underwater cave, the water was light blue and shimmering and the being standing upon its has a composed the same water it stood like a medival monk and watched me intently. In the north there were three beings instead of just one just like the others they were dressed in robes except their robes were made out of moss and autumn leafs the forest was the same as before, their robes were black along the cloth that was actually visible of their hood whch covered their faces. They also head shoulder pads that were ornated with the fteahers of birds as well. All of the beings mentioned had no face and no hands it was like gazing into the faces of oblivion or something primordial, they had no faces they had mass.
From there I can't remember if I vibrated Sat Nam or not but you are supposed to do it, I am pretty sure you are supposed to otherwise this likely wouldn't have worked. above me imagined semi transluscent gates open above me, this may different to other but that's how I saw it. They were rather ornate and it looked like they were made out of water that had all manner of strange colors running through the surface and white light spilled down from the gate, I guess liquid light would do it justice it spilled into my crown and I opened each chakrah in the same manner as before cycled energy up to the crown and with exhalation I circled the energy feeling rushing my finger tips and underneath the soles of my feet and with an inhalation I brought the energy back to the crown, feeling more than seeing it the energy made me after cycles feel not ecstacy but a great spike in energy increase, it's like when you wake up in the middle of the night and you can feel your body tingle all over just before you gain control of your limbs and start moving them. Once that happened, that intense surge of energy throughout me I gave an incantation in the book it goes:
"Meat Solvalla, Vaskalla Trepardat"
I repeated that over and over, at first my voice rather groggy and the words really didn't feel likt the did anything, but as I came to it, as in riding the energy and not just wallowing in it I needed to focus myself and more importantly why I did this, power without direction is useless, its just waste of energy. So quickly my voice became louder and I could and immense pressure building up above me the previous light developed into flames and the light that came from above more or prism where it channled fire made light down to my crown and it washes over my body in the shape of a intense spritual pressure. my back bent over backwards so did my head as the energy was pushing down on me it also made my hands tremble quite noticeably. The flames eventually manifested over my arms and body as I fell on to the ground, warm and tired and I didn't wwant to move at all, the flames danced upon my skin and I remember hearing a voice saying something along the lines of:
"You think yourself unworthy. Stop using that phrase as an excuse, do you really think I would just let anyone pass through the flames and them? You are more than worthy don't consider yourself as weak, rise and become strong."
As I can be rather obstinate I replied: "isn't perfection something is something to be expected, how can I be a good representative of the order when everything was up until this point was rushed?"
The voice then repeated something which made me silent and ashamed all at the same time:
"Perfection is something that can only be seen from a state of imperfection. You worry to much about what others think of you. Do not focus on perfection, worry instead about becoming better."
It's extremly akin to something Baal told E.A many years ago. I needed to hear it. And with that flames entered me and the energetic surge had gone, but just about all chakras vibrated intensely. I remember the voice saying last thing to me and it was:
"You may report on your experiences if you wish, but I would rather see you focus on the process of your ascent instead."
I replied that I would account for this as it might draw other who might want to work through this system.
With that my strength returned and I found that the circle and the guardians and everything else was just gone. I had completely forgotten about them and the room I stood in while experiencing this innitation.
With that I'll have to leave you with a rather strange and a puzzling set of exepriences which makes about as much sense to me as it may do to you. I'll update soon as I progress to the next exercise.
Teras390