Ever wondered how to formulate a prayer from Atheistic scientific view?
Edit Note:
Due to the many requests about the oxymoron of the Word "prayer" being used here - it's only used due to the reference material (Pictures) you see below.
Please note, that the Process is more based upon wishing, like a wish towards birthday candles, or a lucky charm, than meaning "prayer" as in talking to a deity. Since the whole point here, is to help those which feel they can't successfully talk with a spirit.
Or, simpler, just think that such a thing as spirits doesn't exist.
The text of the prayer would go a litte bit like this:
May the Corona Virus kill none of my family or close ones.
Atom.
The Word Atom simply usurps the Word Amen.
after all,
they both correspond to the same source.
Aton, the disk of the sun, regarded as a deity in ancient Egyptian religion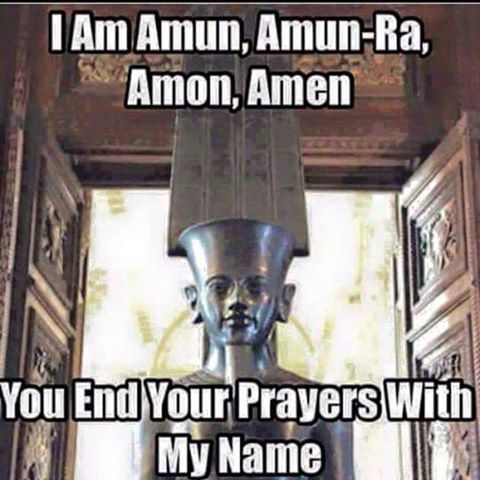 But where the Religious Theistic person may consider Amun a God, or THE God or something like that, the Scientific Person simply accepts the fact that the Pyramids stood over Millenia and according to many scholars wouldn't be possible to be built with todays tools.
As such, it is less on the fact that there was some kind of Pharao Guy…
…and much more about the fact, that back then they already had the Word Atom defined as the smallest physical unit, and had pre-determined huge junks of that Scientific Knowledge, we now consider as common knowledge.
Besides, from a mental viewpoint, the Atom even kind of makes sense, since everything we see around us, all the objects and materials, including even the Humans and Animals, is made up of those Atoms.
So, telling the Atoms to behave in a certain way,
is a nice and clear shortcut around having to deal with all that spirit mabo-jumbo.
Instead, you're just approaching it from a hermetic view, if at all:
As below, so above,
As within, so without.
Since everything is composed of Atoms,
they technically structure the World around us (including us),
and therefore can be used to create any change needed/asked for.
Now there's only the problem of talking to an non-animated object left.
Fortunately, we now have an age in which this isn't as crazy as it may have sonded a couple decades before:
We're now completely fine with people talking to little Plastic boxes in their hands, or bigger devices in front of us. There doesn't even have to be a Human involved.
A simple "ok google" or "hello Cortana" or "Hello Siri" is quite enough to get started with talking to a non-living, non-human item.
So where's the problem with saying: Hey Atom, do this and that for me.
That, my dear friends, would have been considered mental illness for hundreds of years, and yet - today it's considered completely normal and totally fine.
Enjoy Your Spirit free Spells and prayers. xD
Sincerely,
¥'Berion