So I now officially have the sweetest smelling mancave/temple in the whole world


All the incense has arrived and it's all Nag Champa and here's one of the collections. They come with 12 different boxes inside. I ordered 4 collections so 48 boxes x 15 sticks per box that's well… 2 years worth

So I now have 48 boxes wafting through the room and that's before I've lit them!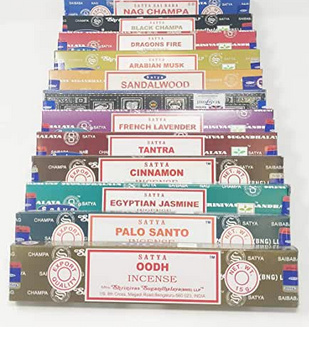 I love Nag Champa, it's a very unsubtle aroma and to me just smells of India (not that I've been there).
It's also very good for disguising other smells of a herbal variety as well (

)
My meditations are gradually being knocked into shape and I've added a self hypnosis one as well so I can now go instantly into a deep trance now. This has been very handy for doing pull ups down the gym as you can ignore your mind and muscles screaming at you to stop for a little while longer…
The nights are drawing in now and unlike most people I enjoy it. It gives me time curl around a fire and do more reading, reflect on things and generally wind down for the year.
As my focus is now more on all things magical, I really need to do a summoning of a "major player". I need to kick on now and I think I need to do in the very near future (ie by this weekend). Hopefully then, my next post will be very soon but knowing me probably not

Finally I'm on week 30 of the seemingly never ending success magick rituals. Only another 19 weeks to go!