@Lady_Eva I told you you would regret it.
So this topic is about Yantras… and apparently undergarments as well.
Here shall be a record of my work with assorted Yantras and associated works. This will include some unrelated spirits that have offered insight and blended well with it and a few of these might be of supposedly fictional characters. Just associate it with chaos magick and stuff not having to make sense to work because I don't want to write a dissertation on my view of the universe that makes this possible.
There are a few rules for these workings for any that want to follow along exactly as I am.
All Yantras shall be drawn by hand.
A minimum of one hour a day is spent in meditation and union with the Yantra.
All preconceived ideas of the laws of reality on any level are disregarded during this time.
Silence in maintained in the work both from yourself and the environment.
The same relative time will be maintained for the schedule of meditation.
Practice shall be continued for at least one week and until full union and ability to tap into the Yantra is attained even without the physical representation.
Of special help in this due to abilities and altered perceptions granted by working with them are Loki and Jormungandr along with Doctor Strange. (Yes a bit of chaos magick there.)
Now rather than explain in full the benefits they give in relation to this it will be easier to summarize it and focus on the Yantras as the work with the beings themselves extends far beyond this single focus.
From Loki comes knowledge of the world tree and shifting phase in the layers of matrix that make up the multiverse.
From Jormungandr comes the perception and awareness of this matrix and knowledge of the minds power to command and manipulate it.
From Strange comes more structured training and knowledge especially of words and symbols in relation to the above.
Feel free to find your own helpers if any when you experiment with these. I do highly recommend Jormungandr as he is quite friendly… Loki… can be extra taxing though and Strange is well… needs a bit of chaos magick and patience.
Now the first Yantra shall be:
The famous Sri Yantra.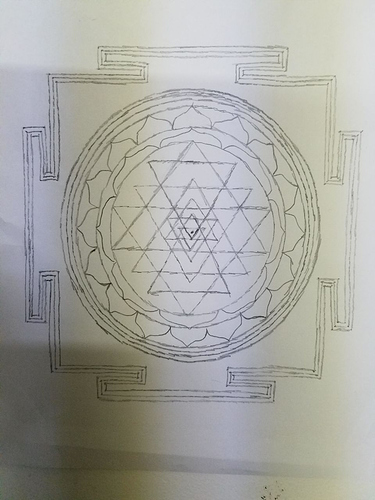 This Yantra is meant to represent the cosmos and the self and the connection of both. I have read that this is the main Yantra from which many others are derived from so it seemed a proper starting point to tune into the universal field as a whole and then work through specific levels if that is how it does indeed work.
The first day of meditation on it I did not get much at first. About halfway through it began to distort and ripple, its form and the wall around it starting to bend in fractal patterns and I noticed my perception falling and spreading through and past the physical and solid levels of the matrix and into the deeper energetic states and bordering the mental.
Second day, the morning session bore little fruit. Expectation and desire to attain the previous experience disrupted the experience. The Yantra is far more sensitive to these things than any other pattern or sigil used before. The evening session was much more interesting. By replicating the pattern within myself as I meditate on the external representation the internal mind and form attunes to it more deeply and this time the entire page started to glow and writhe in perception and the outer reality started to dissolve showing more of what lies underneath.
Third day(Today), Easier to let go of the ego and self and fall into the gateway the yantra forms and become attuned to the deeper levels of the matrix. The inner pattern forms a sphere of its form consuming itself and leaving the outer shell floating in space.
So far long term effects include a greater awareness of the underlying patterns in reality and ability to tap into and isolate them. Including oddly enough a better ability to distort time and a better understanding of the energy found in shapes and patterns. The understanding and awareness of the matrix and its patterns is incredibly hard to explain and I would say is akin to its own unique level of astral sight and someone without it would have a hard time understanding fully. There are lines and threads of energy like code and a pattern in layers making up different realities and times all in the same place. Pure layers of information woven tightly until they become energy and energy woven into matter. I highly recommend Jormungandr for help perceiving this initially.
I will update somewhat routinely every few days or whenever something big happens and to answer questions. Now to get to the promised part about undergarments.
What is your favorite color? I prefer black or dark blue myself for my pantras.