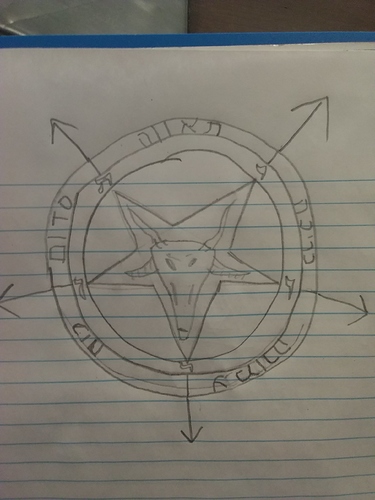 so this is my take in it. It's been modified heavily for my purposes
at first, I wanted it for gay stuff, so I put two arrows. Then I was lookimg for symbols for homosexuality and stuff like that, but ended up usimg hebrew
Depends on your intent and, since you're experiencing the other person as someone separate, their perspective. I mean, you could set a "positive" intent like healing or financial well-being etc. for someone and could still create some seemingly unpleasant events in their trajectory to that well-being. It's hard to say really. All I know is that all things work towards Self-Realisation for the personal self and seeming others. Just set your intent, generally avoid unpleasant emotions, and let it go. You can't micromanage this stuff without affecting yourself negatively.
hmm interning like a rush of energy ? any emotion come to mind ?
i'm utterly amazed at the infinite possibilities we can achieve by mastering the art of creating sigils and manipulating energy. It's like using musical notes when creating a song.
This work is awesome very impressive. But how do you charge it ? With incense ? And you use regular paper or parchment ?
Nice work, did you create this sigil and are those Hebrew characters? The double circle is a nice touch with pagan and elemental symbols with the doubled energies of protection, completion and focus, allowing to draw and build and to protect the sigil giving it enhanced power.
What's the center symbol with the three crowns, it all seems interlocking with the circles, and pentagram? In creating Sigils I like to use characters that I can understand using the english alphabet, for my own use.
Could always use a plate to draw circles if you wanted to, and what succupedia said!
How do u actually activate a sigil?
Welcome @Mons. Please make an introduction in the NEW MAGICIAN AND INTRODUCTIONS area, and tell us about yourself and any experience you may have in magick. It is a rule of this forum.
You don't need to activate the sigil. And people also mention how to charge well charge it with intension and say sexual life force.
This sigil will work becous it worked for Succupedia right.
yes, it took me a month
will repost with english text…
mind if i re make this and put my own spin on it ?
Of course.
Yes ofcourse of you want this file let me know. Pm ur id i send via mail
It depends on how you use the sigil. Sigil activation could pertain to sigils that function as talismans and engravings on amulets and or in direct contrast to sigils that are disposed of, and sent into the universe, the great abyss immediately after charging it.
Many activate there sigil after some meditation make sure the entire sigil is visible and gaze at it comfortably. Let your eyes become familiar with the symbol and meditate on the sigils power.
Sigils should be created by you and your specific intent and possess power from its creation and charging, but certain types of functions, when sigilised, require repeated activation. For example, a sigil of a deity on your body will function like an idol of the deity. By repeated chanting and meditating, you activate the power of the sigil and reinforce it.
I'd say it won't necessarily work for another. Different strokes and different folk. It might work and it might not. Some sigils and created by others are so unique from themselves that they probably wouldn't work for anyone but the creator of that sigil. I'd just say a big "maybe…"