15 of 30.
The Altar
I began the day by going on my nature walk. Rather promptly, I sort of walked on auto-pilot and was focused on my inner world.
I saw myself being impaled by Goliath's star, which is only the center star in this image.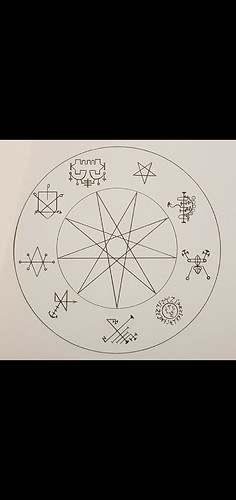 I wrote, "I see myself sacrificed on the Altar of my own Becoming".
King Paimon spoke:
Play with these
I took this to mean for myself to imagine these ideas, and play with them as I walked. To work with that imagery.
I saw myself grab 2 of 4 horns, which are a part of the altar. They looked like ivory, and had tips of metal - possibly silver. Note: the Goliath's Star was at a 45 degree angle, this is diagonal. I grabbed the two horns, I pulled myself into the Goliath's Star.
This was my experience as I walked in nature, and contine the King Paimon Pathworking.
The Attunement
The Book of King Paimon has a section devoted to tuning into the current. It involves the idol, blood, and two sigils. It has a mysterious figure known as Ana'ttoriaz.
I performed the ritual.
I saw a pale face with black hair. She, Ana'ttoriaz, felt intriguing and familiar. I blurted out "Mother". I then almost bungled the ritual because I called this entity mother. Where the hell did that come from??
Ana'torriaz spoke:
a biological connection
I received a data download. It conveyed that she presents as female. I take this to mean Ana'torriaz is beyond sex and gender - but may have a preference for a female cloak. (Intuition said to use the word cloak).
The data download occurred as I felt this uncomfortable injection. It felt like a surgical needle had pierced the back of my head, the location of the Ze'al chakra.
Ana'ttoriaz spoke of a biological connection, and she lead me to include this link.
I suspect she may have a knack for showing that biology and science should have a more prominent role in magick.
Ana'ttoriaz Continues
As I made these notes, she spoke:
and now I know you
I was pulled to the astral-yesod type level, and found myself in the Astral version of my idol.
Ana'ttoriaz was present. And holy fuckballs, it was impressive.
I saw Ana'ttoriaz as a guardian or steward. I know she is a Noble Warrior (intuition said to capitalize). I saw her as a solemn warrior, 40 feet tall. Her head was downcast, and her face was hidden. She literally was using a (from my point of view) oversized moon, to place her hands on - brandishing her shield.
After all that I was quite tired, and I don't recall how it all ended.