So decided to follow @KingOfHearts616 trend and invite everyone to check this out and see what they get from it

Lol I'll just sit back and watch
Celestial-Infernal Fire
Heavy Avatar the Last Airbender vibe
@KingOfHearts616 i will look at yours in a while
I'm sorry for my ignorance but what runes or sigils around in that ring
Pahlavi, used for an experiment with my ahrimanian work
Thank you brother

ok I'll reasurch as for that sigil in the middle very nice
It feels like it is trying to compel my body to move (couldn't resist)
this is not unexpected given the nature of its intent lol and the experiments it has undergone.
Shiva
Phoenix
Buddha eye, inverted
damnnn… Strictly speaking as to energetic nature of things surrounding this…pretty damn accurate
You may find interesting results scrying into it

Reminds me of the Dark gods.
Close my friend. That would be a vague observation. Good, but I was hoping for some more details.

Also one more, infinitely more complicated.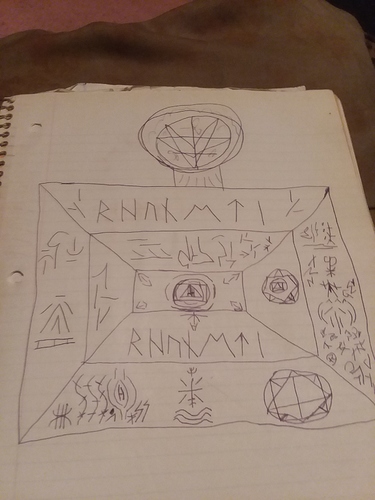 I will defeat the fire Lord! Other than making me want to rewatch avatar, a lot of heavy pressure on my 3rd eye. Actually my face feels kinda numb.
Its a very powerfully focused sigil working. I can pass my hand over top it and feel it. Its to focus a godform's energies.