I tried this ritual for this most recent full moon and ended up at a tombstone with almost the exact same name as my boyfriend. I blurred it out in the photos here for privacy.
I think I caught some orbs on camera. I noticed a couple green glowing lights in front of the tombstone when I arrived in front of it, so I took a picture. I took another one when I was wrapping up (so I can use the photo as a sort of sigil later) and just noticed 3 green orbs in this picture in different positions that I didn't notice when I was there. Lots of activity.

![image|463x500]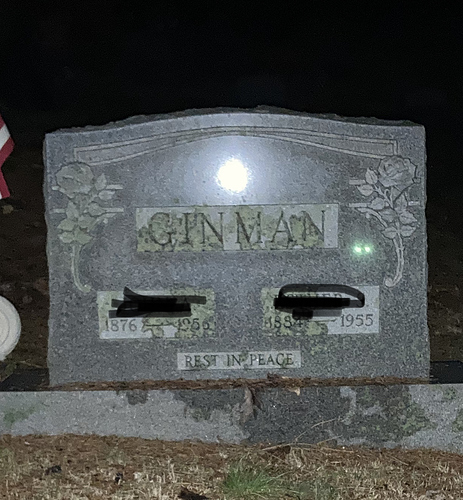 I'm still learning divination and scanning so I'm not sure if I'm reading this right.
What sense does you get from the orbs? Are they what I think they are?
1876-1956
Some info: Ginmans served in the first world war (which would match his birthday and the veteran flag) it was in the back of one part of the cemetery (huge) at the bottom of a hill under a tree shrouded in darkness, I could barely see it from where I was coming from but I felt pulled there to that dark spot under the tree. I think he was surprised and amused at my presence. It didn't look like he's had visitors in a while.
In a recent meditation I think I got a glimpse of a past life. It looked like we'd lost a battle and I was dying among the corpses of my buddies. I think I saw a bayonet so guns existed already at that time. Could that be connected at all or was that just a random vision with no relevance at all?
I think I'm going crazy.