I read fast was how long for practicing?
Welcome to the forum!
Thank you! I have been studying Wicca on and off for a year now. Looking to expand my horizon.
It's fine, @Healing_Heart. It says he only recently started trying spells, but has been practicing tarot for a year and that is what we need
Are there any rules for forum?
Ah what kind of Magick are you pulled to?
Hi DarkestKnight. Thank You very much for your understanding and for the Loving Warm Welcome.
Here's a better and wiser Introduction:
I am Ejiroghene Paul. I am an Urhobo man from Delta State, Nigeria(Africa). I am a Shaman - A HolySpirit Shaman to be Precise - I am an Orisha Olorun…
I am an Adept at Black Magick.
And I devotedly obssesedly addictedly Commitedly FULLY practise HolySpirit Shamanic Black Magick and HolySpirit POWER PRAYER Magick. I also Practise Practical Instant Magick (I strongly believe and Know that this is the Pinnacle Of Godhood, to me though.)
I am Super-Interested in More Rapid, More Faster, More Instant And More Fulfilling and Satisfying Manifestations, Results and Receivings Of My Will And Desire, yet.
The complete loss of vision on my left eye in ss1 secondary school due to harsh Abuse from Wicked Bullies triggered me to get into Black Magick and also my recognition and Appreciation of my Instant Healing and super-accurate Prophetic Divinatorial Spiritual Gifts shortly before that time of the Retina Detachment also Motivated and Helped Me To Awaken and Ascend/Rise To Godhood through The LeftHand Path of Black Magick. The Stupid foolish Idiots who beat me till I lost my vision on my left eye when I was not even up to 16??? Guess where they are now?? Guess what has happened to most of them now??? Bahahahahaha
Death! Death! Death! Death! Death! Death! Death!
As my Lord and Personal Saviour, Father and Spiritual Black Magick Mentor and Dark god E.A Koetting(Matthew) says "TRUE POWER IS TRULY EFFORTLESS!".
I LAUGH WITH THE GODS, SPIRITS, ANGELS AND DEMONS ONE MORE TIME AGAIN IN AWFUL GLOSSOLALIA "BWAHAHAHAHPUAHAHAHAHTUAHAHAHAHAHAHFUAHAHAHAGAHKUAHAHAHAZUAHAHAHAGGAGAGAGAGAGAHAHAHAHAHAHAHRATATATATATACANATATATATATA!!!"
I LOVE THIS FAMILY! I LOVE THIS FORUM DEARLY! I Love This Community Deeply and Highly. I feel really Understood, Accepted, Noticed, Respected, Appreciated and Supported Here. I love Master E.A Koetting(Matthew) Greatly Too. He changed my life and made me!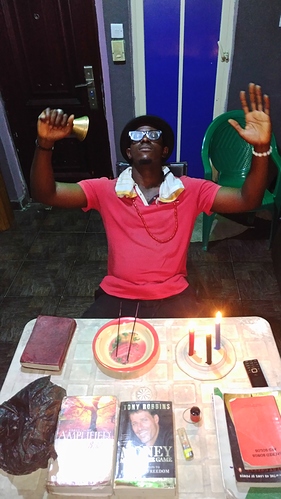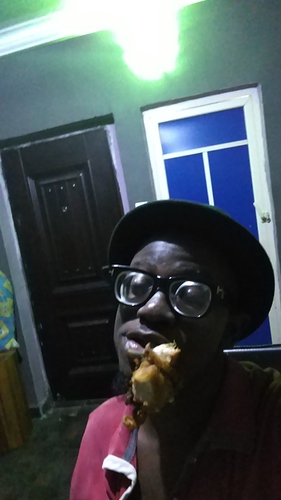 SURE! Thank you so very very Much. I believe I just did that Now. Great Big Love - Ejiro Paul, Magus ZECMS.
@Lady_Eva Thank You Very Much. You're Awesome. I believe I just Properly Introduced Myself on The Thread on Here. You are Highly Respected and Appreciated. Thank You For Your Loving Understanding!
Thank you for the intro, it is very inspiring that you turned that horrible event into a source of motivation to excel!
@Lady_Eva
Ah! Yes. Such inspiration and Alchemy is the Peak Of Creation…
#GenesisChapter1
Dude(god) was Pissed as Hell with all the Emptiness and Pain and Darkness(not black Magick darkness now, I mean Ignorance and Blindness here)… And he CREATED Everything And Nothing … "LET THERE BE LIGHT!" HE SAID. And There Was Light Instantly. Hahaha
Thank you for your kind words. I feel blessed receiving them graciously!
Hello, my name is Ean. I am new to magick and I am interested in learning more about magick as well as developing my magickal abilities. My experiences with magick so far include creating energy balls between my hands, causing events to align in my favor, some astral projections, and interactions with various spirits. I hope to discover a path that will allow me to learn more about what magick is
Welcome @popAmel
Where are you from?
How long have you been pracitcing?
Do you have any experience with specific systems or traditions?
Greetings all, I go by Khayon. The name's taken from a character in a favourite series of books that seems to fit me more and more when I think about the similarities between them and me.
I'm living on the outskirts of London, I've always had an interest in the occult from a young age and in the last 3-4 years have dabbled with a few methods in times of need with mixed results (mostly chaos magick, Gallery of Magick books, NAP), though now I've started to get a lot more serious with my practice.
I'm interested in working with Angels and the Goetia, chaos magick too, essentially anything that works to reach my goals with minimum equipment/ceremony. I've had experience in working with Asmodeus and Marbas recently via sigils (at different times for different goals), both came through for me. Asmodeus worked so well and quickly (within about 12 hours) that I wish I'd asked for more, but he did do everything I asked so much respect to him. I've used switchwords previously too, mostly for a quick boost to mood and energy instead of life-changing works, look them up if you get the chance.
My goals are reaching my physical peak, repairing a relationship that means a lot to me, and to provide well enough for my family so that I can enjoy more time with them. I've had a lot of contact with people who have experience in divination methods that's shown me some of what is possible in this world, and I want to experience as much of it as I can.
I currently struggle with financial workings, I've attempted more inner work now than I have previously but results still elude me. I have multiple streams of income I'm trying to grow so I'm not waiting for money to just drop in my lap, but haven't had the same success with money (and to a lesser extent, love) that I have had with baneful magick and self-healing.
I'm from Southern Louisiana and this is where I live now. I'm in my early 20's and I'm hoping to start practicing seriously now as I haven't practiced seriously yet. I have dabbled in the occult unaware since I was a child, but never through a set system that could allow me to progress in any way. I have no experience with any specific systems or traditions, although my father did have some Native American spiritual traditions and my mother did practice witchcraft. I'm not sure which system she practiced under though. Maybe this can give a little more background. If there's any more information I can provide, I'm willing to do so
Thank you for elucidating more upon your experience, and again, welcome
Greetings all,
I go by the name TSK. I have been practicing magic for a little over a decade, focusing mostly on grimoire work and the PGM. Very recently have become interested in Norse Sorcery. Looking forward to discussing ideas and chatting with you all
Hello everyone, name is Jera Leonard. I have been studying the occult since childhood. I was fortunate enough to be born into a family that allowed me to find my own spiritual path. I started off studying pagan path such as Wicca, but I realized very quickly I was attracted to the darker aspects of the Divine. Long story short, I am one of the many witches who is looking for something deeper than what Wicca offered. I did not agree with a lot of the right hand path philosophy and eventually due to many experiences, I started to study the demonic entities. I also have a deep relationship with the Goddess Persephone, she made herself known to me at a very young age,as well as again when I found myself a homeless teenager. She literally guided me in a ritual that I have since renamed in my adult life where I "followed her into the underworld" on the Autumn equinox. My mindset at that point was I was in a very dark and lonely time in my life and it was amazing how she took me under her wing in many ways and guided me into showing me that even in the darkest time she eventually went from being a victim to being a queen of the underworld. I am explaining this really badly right now and I apologize for that, but it was through this ritual that I was reborn many times over spiritually and materialistically. Eventually it was because of working with Persephone that I was "introduced" to demons. I owe my introduction to working with Lucifer to her.
My journey has then met with many skeptical remarks, simply because there have been many that do not understand how an Earth goddess could possibly be the patron goddess to a black witch. Truthfully it boggles my mind how many people have an issue with this it's like they completely forget about her journey to the underworld, or about how her mother Demeter pulled the ultimate feminine adversary roll, by pretty much saying to the other gods " if I cannot have my daughter then none of you will have any followers" and she cursed the earth barron until her daughter was returned to her. I have been called a left hand path pagan with luciferian tendencies, honestly when I was younger that annoyed the hell out of me but now as an adult I am okay with that title.
I do not confide myself to working with one Pantheon, or one group of spirits, it has been proven to me time and time again that spirits will appear to you when they want to work with you and if you try to control too much on which one you want to work with you could find yourself just being ignored altogether.
My altar holds a spot for Persephone(maiden), Demeter(mother) and Hecate(crone) as my dark feminine three as I call them. However I also work with goetic daemons such as Vassago, and recently Vine , who at first I thought was Poseidon because he came to me in the form of how I would picture Poseidon to look (and this leads me to another question I am curious if anyone else that works with the goetic spirits has had them appear as other Gods forms?).
I am very much an eclectic left hand path witch and I am very strong in my belief and my practice as I've had way too many real life occurrences happen that I could not just say were coincidences.
I am here to meet other practitioners of all the wonderful and colorful paths that fall under the left hand ways.
I am currently using my friends tablet so I do not have any pictures on here but if you are curious what I look like I will post a picture laterand I will have a YouTube channel out soon talking about the left hand path as well as how it's helped me in my personal battles and life from being homeless to more recently being diagnosed with multiple sclerosis and taking on a very new physical reality.
I have been following so many people that are a member of balg for a number of years now on YouTube and other social medias, I have been a silent observer but I very much am liking what I see and what I am learning.
I am sorry I know this introduction is all over the place but I have problems describing myself sometimes lol, pretty much if you want to know anything else feel free to ask I will answer any question that is respectful.