Greetings Co living gods. Please who has used successfully abramelin magick? Kindly share success path. Blessings.
I also wanna know If anyone had success with the sqaures.
If yes, what did you do exactly??

I've had some success with one of the money squares a few months back
can't remember off the top of my head which one.
Cool,
What did you do exactly?
How did you use the square?
I opened it the same way you would a sigil and gave voice to the amount of money i needed (don't remember exactly what i said) closed the ritual and kept the sqaure in my wallet till i got the money and then burned it. Only part i omitted cause i forgot about it was calling the names of the spirits of the sqaure as they flashed.
i think it was less than a month later i got the money, about 500 dollars. I was experimenting with it. Haven't tried any of the other yet, been busy as hell as a result of JD temples jupiter ritual
good stuff
Cool, nice to hear that experience

More questions coming your way



Whats the ritual about?
Where did you read about it?
This should answer most of your questions about it. It is the one from anthology of sorcery 3
Cool, Thanks


No more questions coming your way

My one success with an Abramelin square after multiple tries:
I have. The parts that talks about 'Knowing the Past, Future, and Present '.
I choose one of the square with names like ATSARAH…can't remember clearly. I wrote it with the blood of a cat fish, made it into a seal/talisman. And I perfumed it. And that's all. Used to know anything about the past, present and future via dream.
And also the parts of MILON IRAGO…etc written with the Blood of Parrot, made into a seal. Serves for great and clear visions. This will get you an answer instantly when asked: what is so-so thing? And the vision will appear. Just like doing a read.
And much more. Having the love of a master, a prince…etc
On the use of blood ink is that what the book instructed or just your personal tweak to the process?
Cool, Thanks

Not how the book instructed, but my personal tweak.
Not my knowledge really, but my findings.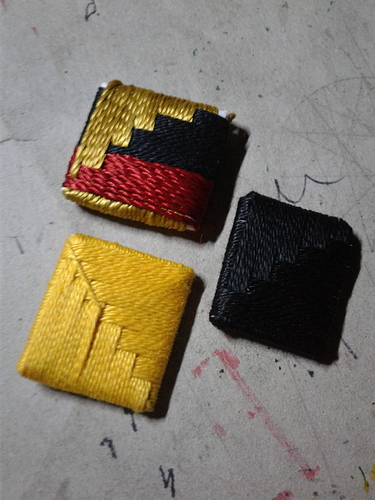 This is example of the seals I'm talking about: the black one is that of the cat fish; the yellow is the one made with parrot blood; and the multicolor is a pentacle in the greater key of Solomon, figure 22: It serves to give answer through dream.
In my first try I managed to get around 1000 dollar. Took over four months to manifest, but got result in quite an undesirable way.
Maybe you did not specify how you want the money?
E.g. want to earn money through sales of product/service or hand broken in accident😛
I also made something similar, but for my custom sigils
So did you carry them in your purse, or keep on altar, or hold in hands when in use, or something else?
How do you use those talismans?
Depends on it's works. For those ones that only serves to give answer through dream, they are kept and only used when the need comes. Usage: just hold it, and say what you desire to know, place it under the pillow, lay head on the pillow and sleep.
For those of love, protection against any type of weapon, protection against any type of night attacks, be it from spirits or human, etc it's kept in the pocket, wallet, or pinned to your cloth. It just have to be with you, not a must you hold it in hand. Some people preferred to suspend it around their neck (like a necklace).
There is this certain pentacle of Solomon used to cause thunder, when made under our tweak. When you are angry, or get irritated or would scare someone to show them who the boss is, ypu just say the Name, 'EL YAI'. The seal is to placed under cap or tied to your hair (if you've got long hair). Or be around your neck. The same Name are used to stop the thunder, lightning, whirlwind, and make everywhere normal and peaceful as before.
Great info, thanks
@luxfero: How to make use of these squares exactly ??
I understand I have to hold the square in my hand. Name the person I want to be loved. What I dont understand is "move the square" and "move the Symbol answering to the class under which they fall".
Does that make sense to anyone here??