You have no idea… It is SUPER relaxing
And it has become the substitute of caffeine for me.
Im a fan of chakra work also, when you say you cast spells using chakras do you use the energy from specific chakras to flow into your spellwork?
Thats awesome. What type of meditation do you do? You sound very disciplined, I am def needing a kick up the behind to get back into regular meditating etc
Yes exactly! I use energy from Crown, Solar plexus and Kundalini, plus 3rd Eye. Beside their effectiveness in spell work, it's also very healthy in general to activate those energy centers. So it's a good exercise spiritually and physically.
I really am all over the place , constantly trying new techniques. But those I have had real success with are the following:
- YouTube
I'll have a look at your youtube link and give it a go thanks. Ive been meditating for a long time, i can get to the gamma/ theta state fairly easily, Ive also.done some shamanic journeying and some other types of trancing etc. The thing is i know how good it is its just getting back into the habit of doing it daily again, I always love hearing what everyone else is up to, that in itself gives me motivation
Also I really like your meditation methods, spot on.
The youtube link is to a meditation by E.A
And thanks
Great thankyou! Im going to do it now
Currently I meditate every morning, about half an hour, sometimes a little less, straight after this I do visualizations. First phase of visualization is a few abstract images, first the alchemical symbol for sulfur, then pentagram, usually only these two, sometimes random abstract images extra.
My second visualization is a 3D cube, which I rotate, and try to see as best I can. After that I do a mental walk around my house, getting up, doing things I usually do, but just with my imagination whilst visualizing these actions. This past week I started doing 20 minutes of Zhan Zhuang, at night before dinner, before taking a shower. Eventually I will be doing this for almost two hours, has to do with doing a full cycle of the five main postures. Eventually when I've done this, will be doing visualizations whilst doing Zhan Zhuang too. Zhan Zhuang is static Qi Gong, it's been medically proven to increase production of red blood cells in your body, which is extremely good for your health, also a completely different kind of meditation.
Next week I'll be starting practicing runic divination according to books by Stephen Flowers, after that eventually sigils and Chakras, since Chakras exist in the Taoist system too. For now I'm focusing on doing these basics everyday. I also find I visualize better when I lie down.
Awesome, how long have you been meditating for? Those visualizing excersises would greatly aid in your manifesting i'd imagine, have you found your strong in manifesting?
I don't understand what you mean?
I only started practicing again three months ago. This was only meditating, but recently started gradually adding things after creating my own magical training program. If you read my introduction you'll see that I used to meditate long ago, but I stopped, and only recently returned to actively practicing.
This was due to two reasons, firstly, I was always making excuses for not doing this training, I don't do this with any other training since I have a home gym, with an Olympic barbell set, dumbbells, stationary cycle etc.
Part of this aversion was due to my natural aversion to the Kabbalah influence in the Western magical tradition, and the fact that yoga really isn't something I'd enjoy. I thus turned to Taoism first, since its Qi Gong and Nei Gong are alternatives to yoga, while I like some of the esoteric Taoist system, I see it mainly from a Pythagorean lens. I found Western magical paths without Kabbalah (or Qlippoth which is still Abrahamic) eventually, and have merged their practices with Taoist practices, from this fusion I have created the training that I actually want to do.
Thats really interesting, thanks for sharing all that. In regards to the manifesting I was thinking magickally as in visualizing the outcome that you want from a certain situation.
I see, regarding that subject, I really haven't done any low magic at all, I want to reach a certain goal in my training regimen first before I do that. There's not really any reason for me to do low magic yet anyway, but I'm sure that I'll be doing some in a couple of months time, for now it's just mastering the basics.
That seems like a gd idea. I think too many people dont spend enough time on the basics not realizing how important they. Knowing and mastering yourself are vital in my opinion.
Indeed, I intend on being able to do the Wu Zang protection meditation before I start doing low magic. This involves using the five elements, connected to the five organs, to create a protective barrier. This is a form of protection without relying on any external force, like many banishing rituals.
Thats fascinating. Im going to look into that myself, I enjoy working with the elements so Id def be interested in that.
This looks like a fun thread!
I love reading about people's daily routines.
Here is mine.
Every morning the first thing I do is a half hour of concentration meditation, followed by a half hour of insight meditation. Then I focus on the image of the Qlippoth over my alter and project my consciousness through Da'ath and then through the rest of the tree. Often I will follow this up with a demonic evocation and a possession that I will carry with me into the day. There are only a few demons who I work with in this way, and I employ them according to my goals for that day.
Here is a image of the altar space I use for my morning meditations.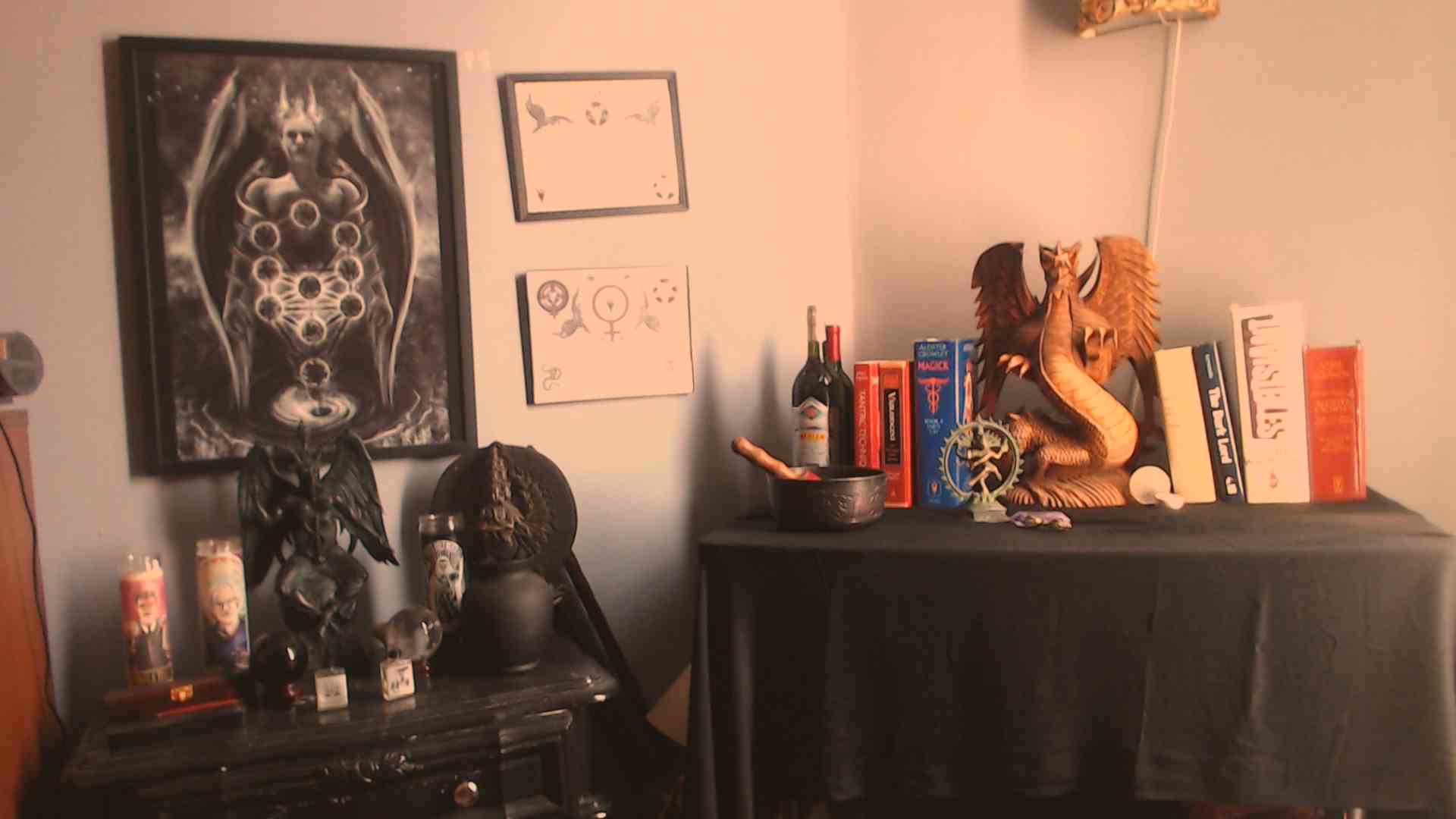 Generally in the evening I try to do at least an hour of insight meditation and occasionally energy work. On a bi-weekly basis I do a multi-hour entheogen fueled sex magick working in order to charge my long term gnosis and my ascension.
You can learn more about this practice in Dr. Jerry Allan Johnson's Chinese Medical Qi Gong Therapy Volume 2: Energetic Alchemcy, Dao Yin therapy, and Qi deviations.