Straight after consecrating my altar, I began to consecrate my altar cloth with the following ritual:-
• I faced the west and meditated in total with my eyes closed. I visualised a mist of darkness and said in my mind:
"Darkness Come"
Next I said the following:
"May the powers of darkness come rise and descend upon me, soldify around me, above me and below me."
I kept my eyes closed and held the cloth in both hands whilst it was folded and said:
"May darkness radiate upon the cloth in my hands, may darkness eternal and absolute empower and consecrate the cloth so it may hold the forces of the nightside."
I inhaled and visualised that every fibre was imbued and saturated in the power of darkness.
Once the ritual was finished…I placed it under my bed until morning were I would cover the altar with the cloth.
My altar and my altar cloth together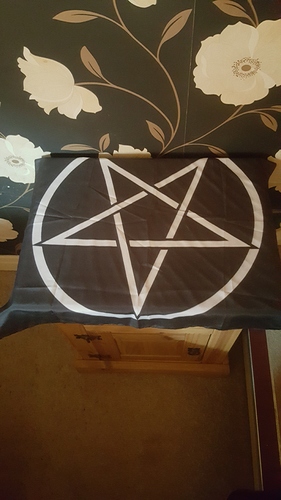 This ritual was laid down originally by Connor Kendall