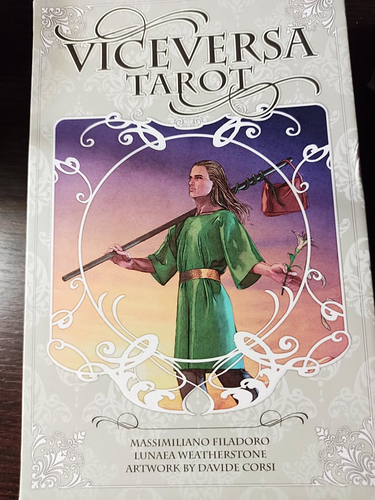 This time instead of showing the entire deck, I'll go through 1 card pulls. Vise Versa Tarot cards don't have a reverse meaning, instead they have "This Side" and "That Side" (day-night, dawn-dusk, solar-lunar, material-spiritual, inside-outside etc) while the court cards have "Inner Self" and "Outer Self". Do not take either side as "upright" and "reversed" or as "good" and bad". Each side is just another point of view.
This is a new deck (just arrived a couple of hours ago). Because of that I won't do a normal reading, Instead I will post the card and the explanation from the booklet.
Things to keep in mind:
General or any question, as long as it's straight and clear. (So avoid questions such as "Should I do this or that?")

You can PM me your question, but your answer will be posted here and I'll @ you.

I won't place a limit, but I will close the thread if it's too much. If I'll re-open it, I will post a comment so you guys know.

Don't pesk me or spam my PM and thread If I don't answer right away (it won't take me days for sure), I have a life too. I will answer once I'm available.
And as always:
I am not responsible for whatever decisions you may or may not take based on this reading.