Anyone experience with the Book Practical Jinn Magick?
Yepper sure do. I have worked with it quite a bit- mm for almost 2 years now actually.
I want to buy a Universal circle, does anyone know if i am allowed to use it with Djinns or during the rituals from that the book Practical Jinn Magick?
Also i have read that some Djinn Kings need to be summoned during specific days of the week. Does anyone got results when doing the rituals on different days than the author says it must be done?
Also does anyone know to which race/tribe the Djinn Kings from that book belong to? There are races/tribes such as Iffirt, Ghoul etc…
These are the names of the Djinnic Kings
Al-Mudhib
Murrah al-Abyad Abu
Abu Mihriz
Barqan Abu al-Adjayb
Shamhurish
Abu Hasan Zoba ah
Abu Nuh Maimun
You can use it with any type of spirit.
You can use the circle, it won't hurt anything. I don't personally use circles, but it's not conflicting imop.
I get better results when I do the rituals on the days as Hargrove lists them, but I've used them on other days, usually because I had to for an emergency situation, and have still garnered results in most cases.
I know he quotes the book at 50/50 for results. I think he'd be stupid do anything else if he's giving numbers, because some people won't follow directions, some won't jive with the djinn etc. But I see much higher results with his works, probably 80% or so overall, though the works I do for myself garner results more often than those I do for others, so just throwing this out here as an average for the combined.
The most important thing I've noticed with working with the djinn and especially this book, is how you word your request. He talks about making it sound ridiculous, like if you want $200 asking for some ridiculous amount instead- he's 100% correct.
When I just say what I want, I'm lucky to get results. When I make it sound like a grand request, that only the djinn that the djinn king assigns to the task can possible ever make happen, I get results. Make it sound like it's a grand quest worth their time, but keep it short.
As far as the reason you give goes, I pretty much always say it would make me feel better, regardless of which ritual it is.
Not offhand, I'm sure you could google it, they are the kings you find in most djinn magic literature, so I'm sure the information is out there.
Like I said these are the common kings I find in magical literature about the djinn. But you can find more information on them by shortening it to Mudhib, Murrah, Murrah or Mirhiz, Barqan, Shamhurish, Zobah, and Maimun and using google.
I've had this book for awhile but got discouraged by the 50% claim. 80% makes me want to pick it back up. Thanks for this.
They enjoy ritual fires when you do the rituals. Should be a special time like half of hour and add some of your nails or body hair especially pubic

They materialize better. Try getting that kind of working and you will see the effects are more powerful
Are you referring to a full blown evocation, or just feeling there energy when the person summoned them? i am doing theses rituals indoor so i wont be making any big fires. i can light a few candles though. Can i just burn the nails and pubic hair in a small bowl as a offering? or has it to be a big giant fire? I have read that making offerings to the Djinns is not a good idea, because than they want to stick around.
Are you familiar with working with the Djinn kings from this book?
These are the names of the Djinnic Kings
Al-Mudhib
Murrah al-Abyad Abu
Abu Mihriz
Barqan Abu al-Adjayb
Shamhurish
Abu Hasan Zoba ah
Abu Nuh Maimun
Yes it's perfect. And yes in this forum there are some past threads I did and workings with djinn and djinn Kings. 1-2 years ago
This seals it. I absolutely want to work with this book now. Lol! This sounds so fun. And then i like that youre like "because it will make me feel better."
thanks for the heads up about the older threads, i will check them. what are you experiences with the days of the week related to specific Djinninc Kings. when you did the rituals did you followed to exact days?
Yes! Actually I totally love Chaos, channel it, worshipping it, causing it… but that is probably one of the few times where I stucked to the rules
Lie to them? Sounds a bit risky, aren't all these entities super telepathic being spirit themselves?
It's not a lie as much as exaggeration, and it is recommended by the author as part of the ritual
Hi there @Keteriya i read in a other thread that you use the openings rite of the Practical Jinn Magick book also for different rituals from other Djinn books. Do you mean thew whole openings rite? Chanting the word EL while visualizing the universe being created, calling the angels and calling the Djinnic elders?
Yeah this, I wrote it down line a year ago so that I never open the book unless I'm doing a Hargrove ritual. When I hit do the ritual, I call out to the specific djinn I'm seeking. Sometimes takes 10/15 minutes of calling and searching but not usually. Usually 3-5 minutes. Sorry on my phone tonight so can't type without auto corrects messing me up lmao.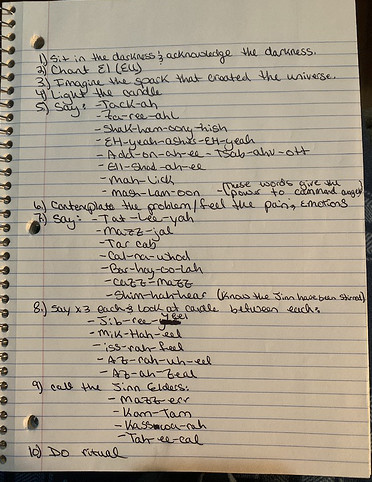 Recently purchased and read the book. Can i do more than 1 ritual on the prescribed day (2 -3) or only 1 per day and week the next week. Also, is it okay to do 1 everyday for 1 week, based on prescribed ritual per day or I need to wait days apart?
I often do. I might even do the same ritual for me, then for someone I know then, on a target. It depends on which but I've been known to do several at a time.
When I do more than 2 per day, I see about 50/50 on results-regardless of if it's 3 separate rituals or 3 of the same ritual I repeated with different intentions. It's not consistently the first, last or middle ones I see results on so, I would recommend staying under the number of 3.
I have and I've gotten really good results from one per day over the course of a week, much higher than if I'm doing multiple rituals on the same day. I would guess my success rate with one per day over a week is roughly 80%.
Sometimes I still throw the kitchen sink at things, and you can get results from doing lots of magic, but unless it's all different subjects, I'd take the slow approach. The djinn tend to move really fast so you should know within a week or two if they are going to move on the request. I tend to revisit anything I did not get results with in about a week (only when we are talking about djinn- everything else is different for me.)
I'll consider how I worded my request and if I made it sound like a flamboyant challenge or not- they tend to respond to things you make sound impossible, like only the djinn could accomplish the task better than wording the request like you would for any other type of spirit. I'll consider if I was making the wrong first move, if something else needs done first etc and recast as I feel necessary after that first week if I got no results.