I would like one please
A general reading is fine
I was shuffling and oddly, I saw a man with afro hair.
Your Card: The Devil
Do some reflection, a second look at your obligations. Are all of them necessary or are some of them dead weight? (are you working with Belial by any chance? I'm sensing him in the distance but I'm not sure if he's watching me or if you're working with him). I'm seeing a man dragging a suitcase behind him, but he's not holding the suitcase. It's like an extremely lose schoolbag, and the man is crossing railway tracks. Do you have somewhere to be, but are too attached to what you'll have to leave behind?
As mentioned, reflect. Understand what you're carrying with you and lose the ones which are dragging you down. Toxic relationships, relationships you've grown out of,etc. Nostalgia is good, but you must not bind yourself to the past. You need to let go in order to move ahead and live in the present, and welcome the future. There's a certain stickiness I'm feeling.
Now I don't know about your obligations, but I think you should reflect and see how much of them are real and how much you're creating to keeo yourself in a certain situation or place. You can get out of the loop you find yourself in. Persevere, you got this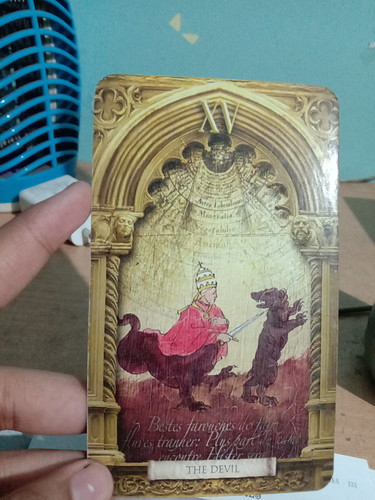 Spot on!!! Thank you for the reading! It helped confirm the direction I'm heading right now. Alchemy is also a big thing for me right now.
Thank you! Glad it helped
Your Card: 9 of Wands in Reverse.
The first thing I got when I looked at the card was "loss of structure". But before I get into the reading, I would like to tell you about some that Michael showed me specifically for you.
It was a dark blue-gray car parked under a streetlight. It was just standing there. The neighbourhood looked like it just stopped raining, the streetlights a little fancy. Then I saw a tan skinned lady with a smokey eye look outside the car window to a rooftop of a house. On the rooftop a spirit was standing, probably Michael, but I don't know for sure. I'm not sure what it means. I don't want to scare you, but I will still recommended being alert if you find yourself in a similar situation.
Back to the reading: By "loss of structure" it takes me to a chaotic workplace. Papers flying around, machines not working, miscommunication, stuff like that. Do your best to stay centered and give yourself time to unwind too. It might get a lil rocky soon.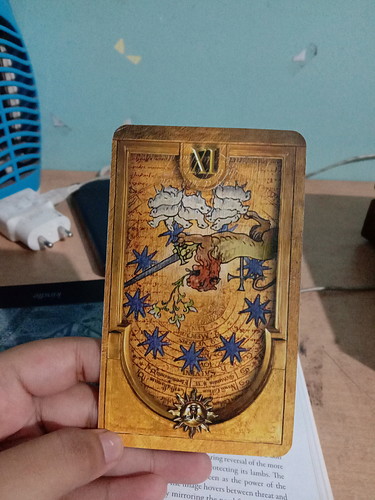 I am
My question is about the outcome of my visa application. Am I in the right direction?
Yeah, sounds about right with the loss of structure
Really accurate. I'll think about what Michael showed you, but no idea for now
I don't know about your visa, but your card is the empress in reverse.
I don't get a bad feeling, but I feel a bit of doubt. If there's someone around you who tries to get nosey in your business distance yourself from them and then think about it. Think alone, you will travel in the direction you chose. Other's opinions are not advice, they're opinions. Use them as suggestions and not soild directions.
Thanks for reading. Not Feeling bad is good
enough
I would like it, please. My question is how do I have to approach someone I am not in contact with for months and repair communication?
Your card: Temperance in reverse
The first thing that came up is a stubborn attitude. Not flexible at all. I don't know if this is you, or the other party. The other party feels to be the kind of person who makes a big deal out of everything tbh. I don't want to come off as rude (but I probably will)- the other party feels like a Karen.
If you know it's getting too much take a step back, take a breather and think of a measured approach. Do some communication spell with a smoothen-the-relationship spell if need be. If the stubborn party is you, do some reflection and broaden your mind.
The conflict is at times, unnecessary. Make sure your energy is being directed at the right place, and if you really want to re-establish communication you need to not cling to the past incident.
That's all I'm getting.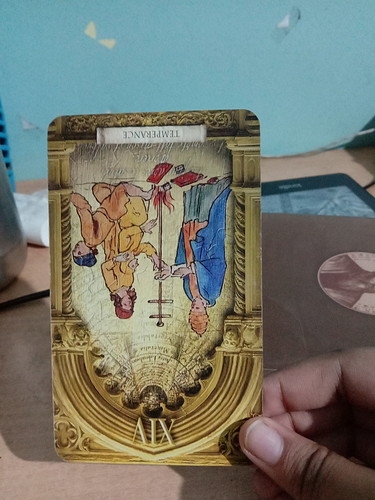 Thank you for the reading, yes you describe perfectly the person I am dealing with (an ex-lover of mine,that blocked me ). I will listen to the advice!
thank you, I'll examine what's deadweight and what isn't.
5 only. I will not be responsible for any decision taken based on the reading. Please mention your question as well.


Hi,
Thanks for doing this. Your readings have always been accurate.
I would like to ask
Any info about my ex GF.
Thank You
Hello
A reading About my past
relationship with a girl in university .
Am I too late for a spot?
Can I get a read if it's still open?
I'd like general but I'm also interested to know if or when my knee will get better and if thee cards have advice about that or anything's else generally.