okay just a heads up, this happened many years ago… probably when I was like between 5 to 7 years old so I'm remembering the events the best I can
I hadn't thought about this particular "event" for a long time. Kinda forgotten but it somehow just randomly came up in my mind just now. I'm going to try to describe it the best I can. This isn't really spirit related or Magick related but it is weird and maybe has some sort of explanation. Basically want input on what it might be – especially with my knowledge given now that I didn't have before I started working in occult related stuff (spirit work, lucid dreaming, etc).
So basically… When I was a kid this happened around night time. I was awake (which made me question that it was a sleep paralysis experience, but maybe/possibly, since I couldn't move during part of it) at this point in my bedroom. My bedroom was on the third floor for reference and my window was at the head of my bed. Both important details. I don't know what time of night it was, it was dark out and I was supposed to be falling asleep so probably between 10-11:30pm if I had to guess.
Basically I saw "lights" and many of them in weird arrangements outside my window. This doesn't make sense for one big reason, because my house is right next to another building – close enough (there was some space but not sure the measurements between the two) so there shouldn't have been room for anything. I remember staring at the "lights" and I don't know for how long, but I remember then suddenly becoming scared and hiding under my covers (typical of me -_- back then).
From them my memory blacks out, I don't know if I fell asleep at this point or what happened. But I " woke up" (don't know if this was a sleep paralysis or even astral projection) in a "room" that was dome shaped and everything was SUPER BRIGHT. Like enough to blind you. Everything was white too. I will also mention that I do remember feeling very groggy and physically weak – and I wasn't able to move. I didn't see anything with me but felt like there was something with me (same type of presence feeling you get when an entity is with you). Before I chose to black out again (again felt very groggy and weak) because I had a gut feeling that I didn't want to be aware because I was scared or something. Like wanted to "check out" of the situation.
So before I blacked out I did take note…that there was a sorta "banner" of "writing" (I didn't regonize it and again I was in a weird state) around the "ceiling" (approximate location) of the "room" (I just assumed that's where I was, honestly couldn't see much. Kinda like there was nothing there). That is one thing that sticks in my mind. Then I did black out (fell asleep?) and woke up. Nothing remarkable happened, and I've never experienced anything like that again.
Also from the moment I blacked out in my bedroom to when I woke up the next morning, felt like minutes but it still stands out very much. So it's not like I was aware for like an hour taking note of every little detail, I was very groggy and felt like passing out and after a moment of being weirded out (and scared) I did "pass out". Another note, I could move when I was in my bedroom looking at the lights, because I sat up to look at them. It was after that I couldn't move.
Here is a poorly drawn sketch of what the "area" looked like. Also there were no lines, I was just trying to draw the dimensions and shape of the "room" to better help you understand what it looked like: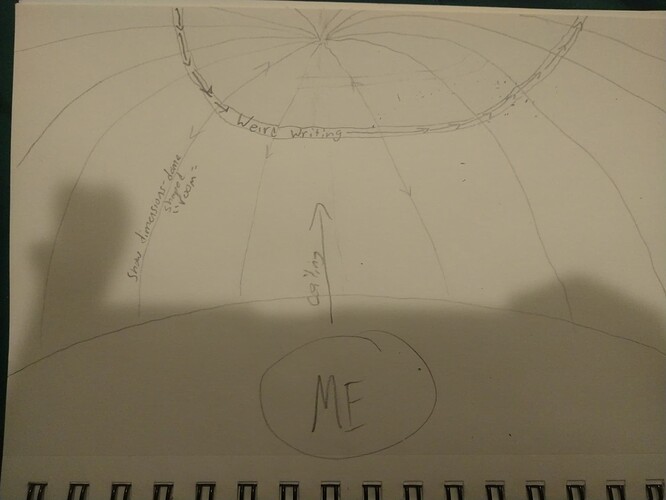 So basically looking for any input whatsoever. @Mulberry