This is an idea I use myself, thought I'd share - Thursday I set a weekend project (that means I have one ordinary business day to do any necessary prep).
This weekend, your project (should you choose to accept it of course!
) is to identify the ONE practical thing that keeps making a piece of magickal work more hassle than it needs to be, brainstorm a practical "good enough" solution, and have it FIXED by Monday.
For example, you've read the newsletter The 7 Steps For Using Spirit Sigils To Get Anything You Want and now you want to get started - but you don't have any paper, not sure about using the back of an envelope, and what about pens?
So, this weekend, pick up or set aside a reliable black marker that's not too thick or thin; make a small box or plain tray to keep paper in; cut or tear to size some paper, ready, and put it in your box or tray, along with the pen you chose - maybe put some personal symbols of good luck round the outside of the box or tray, fix some charms on, whatever will make it look and feel special.
Cereal boxes are handy for this, turned inside-out and maybe covered with pictures, and a standard piece of letter-sized/A4 paper folded carefully in 4 then torn is a useful size for doing sigils, A.O. Spare style or demonic.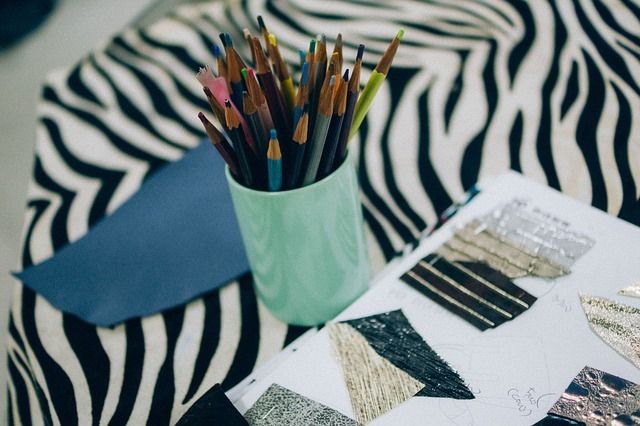 △ Black magician's best toolkit!
Or, if you don't have an altar space yet, look into buying a plain tea tray or a wooden chopping board, painting it black and marking it with (for example) an inverted pentagram, and keeping the whole lot in a black pillowcase if secrecy is important. It won't rival the Temples you see the villains do black masses in the movies, but it's YOURS and it provides a focal point for your magick.
Or if you don't yet meditate, get a piece of string and either tie 27 knots in it plus one much larger one, or place 27 beads or buttons - which don't need to be the same size, shape, nor must you wait until you can get some made of sacred yackatacka wood from Mount Mahoosive! - anything that will thread onto on the string, just leave a few inches free for them to slide across.
Then, again, finish that with a large knot to mark the end, and decide that once a day, eyes closed, you're going to sit passing the knots, beads or whatever through your hands while repeating the word "RELAX" - or "AUM," or maybe a short mantra or affirmation.
This is something you could start tomorrow, getting the string/beads, and by Monday you'll be all set up to be the kind of person who meditates daily… how's that for a weekend's result?
Stuff like that, anyway - a simple project that uses common sense and a bit of planning, to make something you've been putting off a lot simpler in future. Strategy beats willpower, and making something easier for yourself will make it more harmonious and more likely to become part of your everyday existence…
Or, y'know, watch some TV and play some games and whatever, and wake up Monday no further along than you were last week… your choice.

My own project this weekend is to make what LOOKS like a standard memory box - photo under the glass lid, items inside, painted matt black with some "stars" (aka pentagrams!) for Varnaxis - having a good quality physical link's going to make channelling and the other work we have planned much easier, whereas NOT having it, well, that's just another thing to help me put stuff off!