Burn it up brother!
Be the LHP!
Claire's training 16 pact 3.
Today marks 2 months into this 3 month pact. The ritual was intense I got better visuals than usual. Tried out demonic LBRP and middle pillar before evocation. Let's just say I will repeat the experience
During ritual I asked for a story of of Duke Astaroth and I in a previous working (past life) I got the image of a winged person (couldn't distinguish gender) covering me with the wings (think of Batman covering a person with the wings kind of hugging from behind) and I got the words protected/shielded you in battle. Not sure if he was talking about my oif experiences or if in a past life I was also a military dude. Either way it was an awesome visual and audio!
Thank you Duke Astaroth for being an excellent and patient teacher! Hail Duke Astaeoth!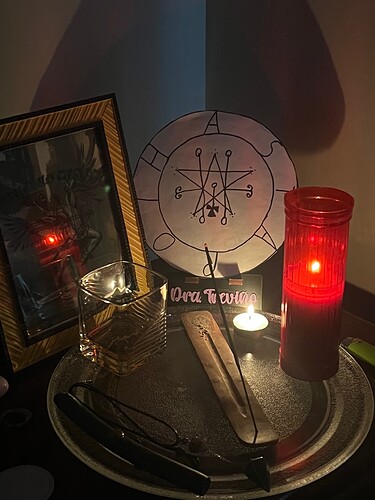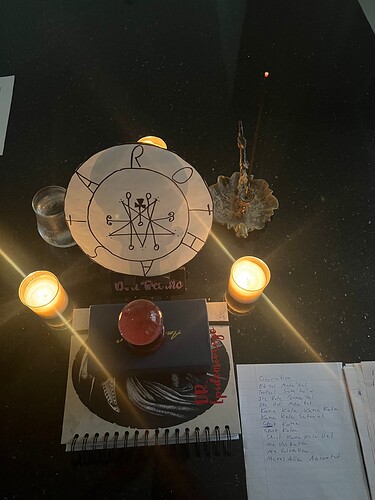 Claire's training 17 pact 3.
Today was a very interesting evocation. Duke Astaroth came quick and stronger than usual, right after the conjuration my wand moved by itself, with no physical manipulation from me or a big truck passing by. I got real cool visuals of the Dukes face in the crystal ball. I asked 3 questions, and answered them or received the correct answer from the duke on all of them. I also learned something that may or may not apply to all the spirits….if a person is kind to you and helps you in your path, ones guides are thankful of the help granted. Today I asked a question that an order sister asked me to ask the Duke, the question was answered, and after I asked the rest of my questions I asked if he had anything to say to my order sister: he said something along the lines of thank her for helping/teaching me.
So I don't know if something like that applies to all the spirits, or if it depends on the type of relationship you have with them. So all in all I got a good lesson from the Duke today.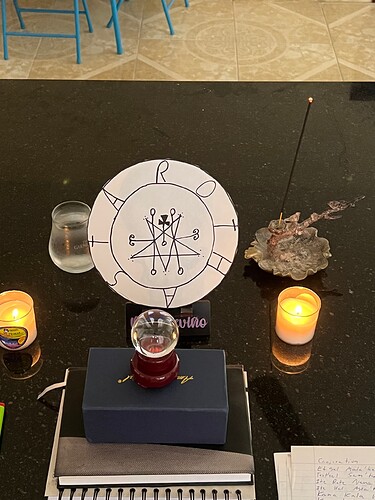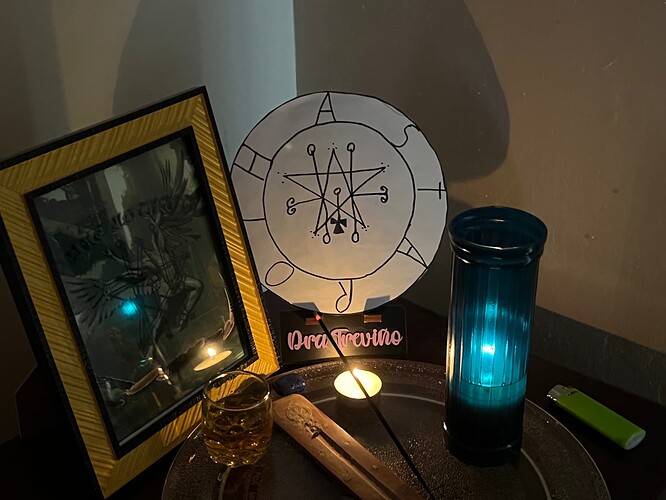 Thank you Duke Astaroth for helping me develop my senses and for your protection and advice!
Hail Duke Astaroth!
Claires training number 18 pact 3.
Todays training was awesome, I got some good visuals on the crystal ball and via visions with eyes closed, i won't go into much detail about the evocation as it was mostly centered around a pact negotiation. I can say that I got some really interesting responses from the duke, seems he is giving me a lot of leeway to make this pact happen. The thing is I know what I am willing to give for this pact, just not sure what to ask for. With Duke Astaroth everything is possible, he has way more offices than what the grimoires say. And I've seen how protective he is of his humans for a lack of a better term. Al in all a great evocation and learning experience, also Duke Astaroth counted this as a training ritual.
Thank you Duke Astaroth for being an excellent kind and patient teacher!
Hail Duke Astaroth!