Well, I decided to journal my first evocation or makeshift evocation of Duke Astaroth. After many days of thinking about him, yesterdays manifestation and todays reachout, I decided to do my first evocation today.
Started out by drawing the sigil ended up tracing it on a sheet of paper and drawing the circle around it. Didn't have 3 candles so I got the only one I had in the house and set up a makeshift altar on top of my dryer in the laundry room (this as a precaution as my son and elderly mom are in the house). Got a cold glass of water and a glass with 2.5 oz of scotch. Sandalwood incense stick and rock and roll!
Lit the candle and put on YouTube Astaroth enn, chanted along for about 8 minutes, and the candle flickered, I took that as a sign I made contact. Thanked Duke Astaroths presence, and gave her a charge. Granted I didn't feel the energy shift as I felt it yesterday, but I went with it and talked to her as if she was there, kind of like I would talk to a friend. I got real cold (not sure if was weather induced or spiritual) and gave licence to depart. I used @Mike_Bee s may the peace of god be forever between us, and let the Duke know that se could stay until she had her fill of the scotch and that I offered her de incense. I went about my business and right after I left the temple, mi head started hurting. Now you may ask why I refer to her as she, I think the Duke manifested en feminine form. Here is a picture I took of the smoke, didn't see anything during but I discovered that in the picture. I will be watching my dreams, the bad part is I don't recall most of them when I wake up. Any ways I will be posting on here and hopefully this won't be my last atempt at evocation.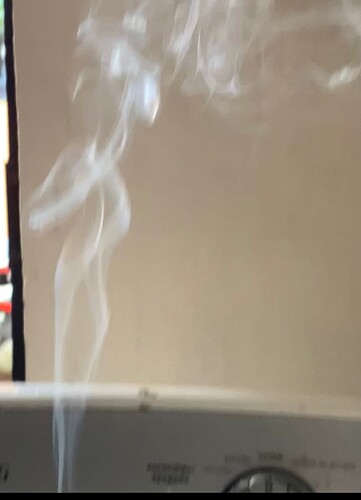 I think I see the shape of a woman un the smoke but then again it might be my imagination or lust for contact. Greetings to all!