So since E.A. issued his 7 day evocation challenge, I figured this was a good time to start a journal. This first entry will be very long, so if you read it all, I thank you, and hope you'll find something to make it worthwhile. Without further ado…
Day 1: I decided to evoke Haures first for a couple of reasons: 1) The skillset mentioned in DoM and GG (Goetia Guide) sounded very interesting to me.
(Adventures in Haures Sitting Part 1)
In my evocations so far, I have typically gotten a very specific masculine or feminine vibe from the spirit. For example, when working with Duke Sargatanas and King Paimon (stay tuned for future flashback episodes featuring those experiences) both were very masculine, so I worked with them man-to-man so to speak. When working with Ladilok, she was feminine for miles and thus we had a great time.

If it were up to me, all spirits would manifest as attractive women. What can I say, I enjoy woman kind.
In the case of Haures, it was pretty neutral, so I just expected a feminine manifestation. It stayed neutral.
I worked with her (still gonna say "she" because reasons) about some baneful work, and that was pretty much it. Still her presence was not as strong as other evocations have been and it was odd to me.
I should say that for the last couple of weeks, I have had some off and on issues with tiredness and felt almost like a parasite was possibly picked up along the way. Despite banishings (maybe I need to step them up even more
) something was lingering off and on. Last night was really bad. A couple of hours after the evocation, it felt like this massive presence was around and was trying to depress me. It almost felt like the dark night of the soul, but wasn't that.
I woke up today and it still persisted. It was crazy! It felt like a malevolent force was trying to destroy me, get me to give up magick, etc. I've been accused (I like to think falsely
) of hubris at times, but not uncertainty. I decided to take a nap to reboot. Then it happened…
"Shriek!!!" I was awakened from a deep sleep by an audible scream right by my face. It was a massive shriek that sounded like an animal had just been killed right beside my ear. What was interesting was that I noticed the horrible feelings were gone. Not better, but 100% gone! This was delightful and made me curious, so I decided to do some divination with Pindy (my pendulum) and Mat (see below)…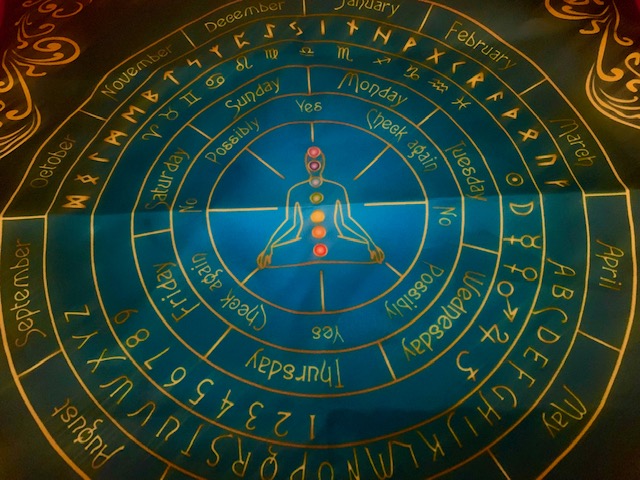 This post was so long, to make it easier to read I'm going to finish it in the next post…