I normally make my own incense but I always enjoy some morning star's products when I get the chance
I buy preground, but in theory couldn't you just boil the bean whole? Much less labor intensive.
You could, but grinding helps to release all the subtle flavors as well. I normally buy pre ground as well but we were out so I broke into the emergency coffee. It's a good thing I have multiple sets of mortars, as copal coffee would not only taste bad but might be fatal too lol real death by coffee
Have you considered a Ziploc bag and a large hammer?
Lol was out of ziplock bags.
I should say that I used emergency coffee plan B. Plan C involves a trick I learned from a former Green Beret that involves using MRE coffee packets like chew. I could've just used the packets but I did not want the death wish that would come fro, giving my wife instant coffee.
I have done that before actually. A half can of straight or mint dip and mix in a few teaspoons of coffee grounds. It's not bad and certainly works. It's not a regular thing, but when I was a working in yacht construction and couldn't smoke around the chemicals, I would take a pick-me-up where I could get it.
Yeah you said that before, that's why I wanted to try it… I got curious. They had all kinds of Japanese incense.
TMW I feel called out by a meme lol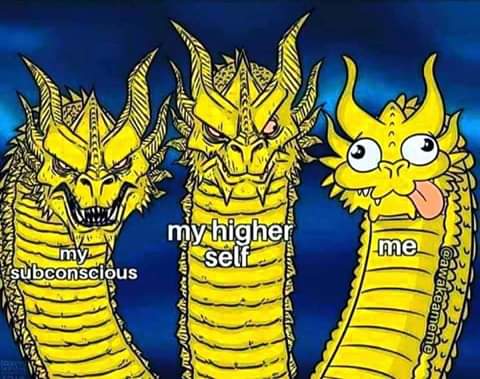 Tmw you feel it's time to de clutter your alters & magick spaces
TMW Your prescence helps a sick cat make her feel better
Feelq good to have that effect on her!
TMW I think I am finally ready to admit to myself that my nature isn't that of the Adversary, or Trickster, even if I have elements of both. The more I self reflect the more I start to realize I have always fallen into the role of the Sacred Clown.
I've been using the Amber and Musk of that brand for Belial. He seems to like it
Also sandalwood is great for him!
Tmw you finally get your food, but it's still hot and you have fifteen minutes until lunch break is over.
One of the reasons i eat warm at home.
Fucking short lunchbreaks
Interesting how you placed Zeus here, there was a strong thunderstorm when they crossed the borders.
Tmw
You learn something new everyday
Well, I am a magician after all.
Good synchronicities.
Dammit, I always forget that when I talk with other people "like me"