Well thats good…hopefully she'll find someone new
Did you make a post about her? Can i get a link? Sorry i missed it wasnt around on balg for almost 2 months
Anatch a soul through vigorous fucking? Surprisingly im not surprised
Try changing Lucifer enn haha
Changeing? What do you mean?
Shittttt. I ment to type "Chant"
Sorry can't always fix errors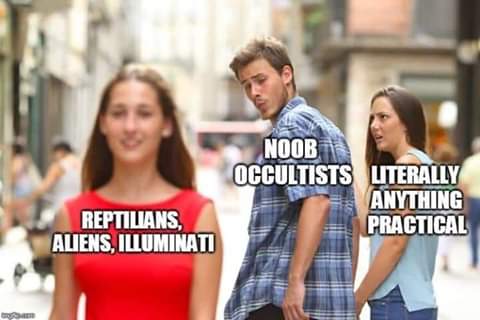 LMAO! That sounds like me! I wana see reptilians and mythological creatures and make contact with aliens, and encounter other beings not yet discovered.
It makes me feel a bit sad for her :(.
@UnseelieDiabolus My offer to take her off your hands is still on the table. I can find her a purpose and give her a place.
I see and appreciate your offer, however I have had other offers of a…greener variety.
Greener?
I'd be giving her a job where she would have easy access to targets she could feed from, and the added benefit of her working with a person who has most of the Goetic spirits in his service.
Yeah, and that sounds nice. But I like getting paid lol

Starts humming " Friends on the other side"
I am absolutely a greedy bastard. Sometimes you gotta be greedy just to get by.