TMW begging for attention works
I'd love to explore
Could you link me please lol
This is the most powerful hex I have experienced. I have just gotten cancer from reading it
Second that, I just got terminal brain cancer from that.
I have a few help threads you can use and dump on those kind of threads. You can drop some ideas on this thread of mine if you don't already see what you are looking for.
Tmw you remember you have an old meme needing to be use. (Just kidding my dude.)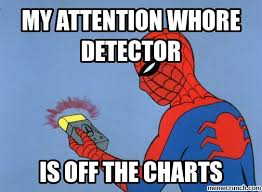 Thank you
Looks like you should drink booze ("tincture", coughs)! I highly encourage that
I was thinking alchemy? Lol.
Hey, you can call it whatever you want. I won't judge.
OMG! TMW:
You create 7 Sigils for 7 Beings that were left covered up and one out in a certain place…
I leave the house and no one entered during my leave.
I return to the house and go to my temple…
The fucking Sigils are gone.
I checked the trash can
Everywhere.
I am trying so hard to not freak out right now
Are you sure you didnt use them as toilet paper ?
Dont joke with him or you will face his wraith
Why the fuck would I use the Sigils of Lilith, Asmodeus, Naamah, Cerunnos, etc as toilet paper
It's a difference between joking and making stupid ass statements
Im cool with joking
This girl taking herself too serious man,pissing me off.
They are probably all still hung over from memorial day and don't want to be bothered yet.