Talismanic Tablet Of Infernal & Celestial Healing.
I have had incredible results over the past couple of years combining demonic and angelic energies/power to heal not only myself but several loved ones such as my grandfather, partner, grandmother and several clients. Ive worked with a wide range of healing spirits before Buer, Hent'yos and so many more, however the two which just work absolutely amazing together is Marbas and Raphael.
So recently instead of just calling them forth to heal people, i decided to get taught their unique intermingled healing angelic and demonic magick. This was the gift that they gave me.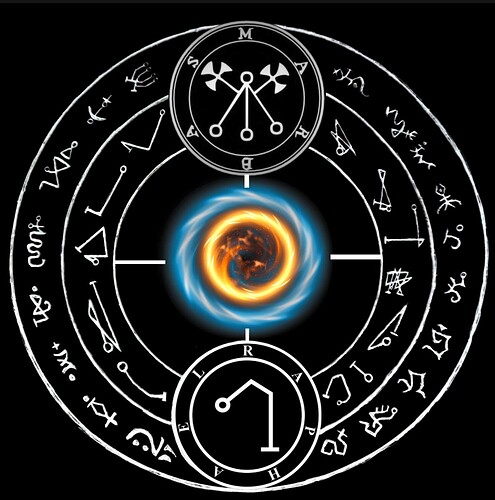 A new sorcerous technology given to me by both this demon and angel, is this healing tablet. The inner circle contains a variety of sigillic seeds serving unique healing functions, with their own specific frequencies and vibrations for the healing process of mind, body and spirit.
The outer concentric circle can be split into two divisions, the left side of the circle is an angelic script to anchor the divine angelic energies for the science of healing to the operation at hand. Whilst the other half of the circle upon the right is a demonic script to anchor the demonic infernal energies for the science of healing to the same operation.
Contained herein are two sigils one of the demon Marbas and the other Raphael, connecting their power, essence and energies through these sigillic gateways. In the centre is a artistic depiction of the real astral vortex which emits from the tablet once activated, conveying the unification of demonic and angelic forces working in unison for the overall full healing force contained therein.
This is highly consecrated and focused grid of healing power/energy and essence, the image/energetic link of the target is placed in the centre of the vortex once its fully activated and awakened to its fullest potential. Sorcerous sigillic healing seeds, infernal and demonic power coalesced with angelic and celestial power, what's not to love.
Thought I'd share this with you all let me know what you think, its high in terms of successful results and thats the main thing to me

Sincerely,
C.Kendall.