The double loops on top are the symbol of infinity, but I'm not sure about the rest.
The first association which comes to mind is that of the Crossroads Sigil. There are many ways to symbolise it, but the idea of the sacred between-place where all things connect is older than written symbols. It could be a compass rose, or a trifoil, or crossed keys.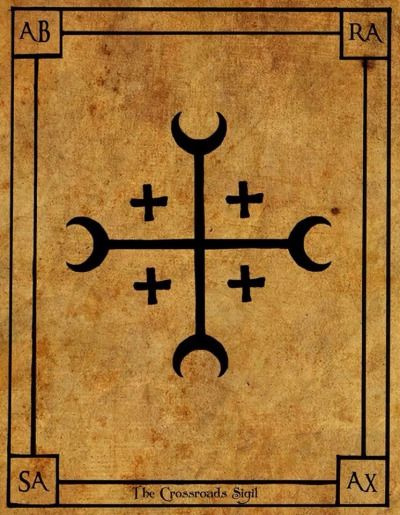 The loop of infinity seems a separate addendum, unconnected to yet associated with what is below. It could symbolise that the intersection below is forever and permanent, for example. It would be helpful to know what context you experienced this symbol in, as that might help narrow down what you're looking at.
An infinity symbol over a Galdrastafir that seems to be designed for concentrating energy.
I could see a few interpretations to this, but the one that comes to mind immediately is the concept that we are flesh and blood concentrations of our infinite spiritual selves.
Thank you for the reply, all very interesting.
It saw it in a dream inside my dream, when I awoke from the dream I thought it important to write down the symbol. The wind when I awake from that dream into the other dream was very strong, and it was nighttime, the sky was dark. I remember Metatron, in the dream it seemed as if Metatron was causing poltergeist activity in my house, which is strange as I thought I have a rather good or at least neutral relationship to Metatron
That would make a lot of sense that it's a Galdrastafir, as I saw Ægishjálmur a few weeks ago. Ægishjálmur it appeared to me spontaneously in my mind when I was thinking about something else and was in a upset mood. But I do not know why Galdrastafir appear to me, I have limited or no knowledge on them and the only one I know is Ægishjálmur after it appeared to me, but I do not know how to use these staves. However, I do worship the Norse pantheon, but it does not feel like a deity is sending these staves to me.
It seems to me as if it draws energy in to the self and condenses it.
Infinity as said on top and I've seen the other symbol before but I have no idea where… I've seen it though!!! I want to say a key. To what though idk
Maybe the eight fold path. Or the wheel of the year. With the four major sabbats and the four lessor. The infinity symbol showing the never ending cycle. I really like this symbol.
There!!!
That is very interesting and makes a lot of sense, thank you for that!
Exactly, except if i see this as a Vitki, i'm staring at a Galdrastafir that is "collecting infinity".
Infinite cause and effect? The collectors on four points of the stafir would then be indicating it is increasing.
Yes I think it is a Galdrastafir, it makes a lot of sense rather than another symbol. Your first interpretation of it resonates extremely well with me.
Solstices equinoxes and midpoints (like the wiccan sabbaths) under infinity
Which would mean:
The cicles of earth and life are limited
Infinite is above so not reacheable by this cicles
The whole is much more than just life cicles