Prior to starting my mentorship with @C.Kendall I knew nothing about Radionics until I saw one of his posts on FB. I inquired what he was using because I had never seen it before and had always been attracted to paratechnology and Psionics work. I study scientific theories and philosophies such as the Fermi Paradox, Quantum Immortality, etc.
When C. Kendall told me what he was using and how it works, I immediately knew it was the perfect tools to add on my BALG path.
I have several Radionics devices including a custom Radionics Amluet that I will not show for obvious reasons. But today this arrived in the mail, and I had to share.
Manifesting and Summoning Radionics Box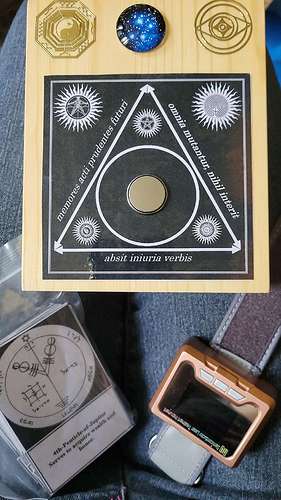 The box itself can summon entities, powers, or results when used correctly with the corresponding sigils. I can't wait to try it out tonight. You can find where I got this amazing tool at the website below.
I have revcieved other Radionics boxes and tools from different sellers and will also share those when the time is right.
I have also started to make my first Radionics Box specifically for my Mentor before I continue to produce more. So far, so good. Will definitely keep you all posted as far as experiments, rituals and usage. So consider this post an on going Radionics project.
I'm so in love with Radionics. It's ridiculous. And I find that even though I have been practicing for over 12 years. I never heard about Radionics until my Apprentship. And now I'm hooked. They provide such fast and amazing results that honestly, I've stopped casting the old way, and have stared the usage of Psionics in almost all my rituals.
If you have info for others, questions or want to get into it I am here.

Hail the Infernal Empire, and Hail thy self
-Karma