Through use of the pendulum and letter chart I have started mapping spirits that for some reason or another I possess some connection to in terms of energy and vibration either by exposure to outside forces or by the nature of different aspects of myself both light and dark.
The first of these entities revealed by the pendulum was Pintzal a malicious demon of war and bloodshed. Commanding only one legion of those damned by their rage or guilty of great crimes of war and violence.
His power is associated most closely with the planet mars and he seeks only to bring further violence. A lesser demon with the sense of a mercenary spirit for many gods. His name may be only relation to my connection to him.
His power lies in teacher to conjure and control rage to bring war and violence or to be channeled in the use of power through fortified will. His power to fortify the will is that of establishing the will to resist the strongest horrors and war unscathed and to carry forth past that which should break a man and destroy his mind. He can also break the will of the weak with such horrors and desires leading them to acts of great violence. Every crime and atrocity of violence and rage can connect back to him in some aspect as well as those of war.
"There must always be blood, either brought about by my works, or as sacrifice to me."
"The power to exceed the strength of a thousand men or the power to damn them all is my rage."
His legion is known as the Legion of Nha'Ghorzal or the Nameless Legion which from the impressions I got is more a mercenary army of rage filled shades turned demon and spirits of violence and bloodshed employed by whichever war god enlists them at that time. Likely part of many nameless but powerful masses of beings that serve in the legions of greater entities.
I do believe my connection to him stems from my past anger issues and rage which I have channeled off into other emotions and activities as well as my love of macabre and the various horrors and abominations of violence and gore mainly as theatrical elements in stories or games which does seem something shared among quite a few.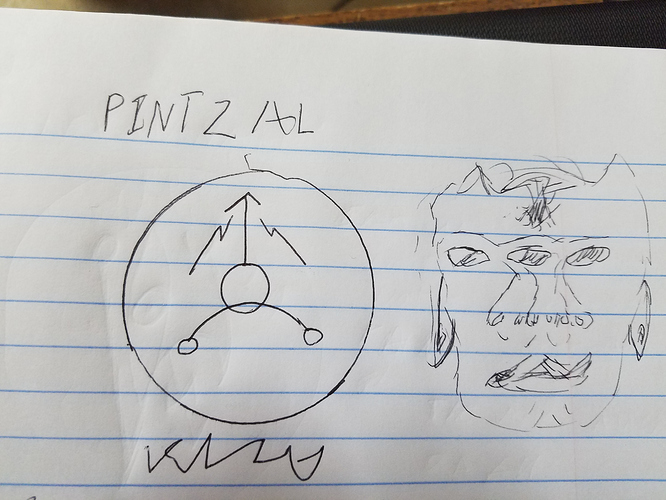 I shall continue exploring these various spirits that the pendulum method of divining gives whether angelic or demonic or elemental and whether already known or unknown by name. If anyone wants to try and work or contact these beings to see if they change largely from person to person feel free to. This one I categorize as malicious because of his blood thirsty nature and the horrid acts he desires to cause so exercise caution with this one.