Catching Up
Info dump incoming. I think of all spirits (incl. you and I), as wrappers. Some Divinity is ineffable, unknowable and wordless. Spirits function as a sort of wrapper that takes these ineffable, unknowable, and wordless xyz and presents it in a form knowable to humans. Impersonal Divinity that dons the mantle of Personalized Divinity. Your gods, goddesses, and spirits.
Herein lies a trap. A finger points at the moon. By focusing on the finger, hast thou forgotten about the moon? Spirits are as this finger. They in-body, they point to the Transcendent. Folks who hyper focus on correspondences, this path vs that path, The One True Occult Path, "I only work with XYZ type spirits"… These folks have mistaken the map for the destination.
Greek Gods and Goddesses
God and Goddess as in-body-ment of Transcendent Divinity.
I'm new to working with gods. They are live wires and should not be taken lightly. That doesn't mean you avoid them bc your red this. It means you just shift an expectation or two.
Hestia
Goddess of the Hearth and Home, if you have been seeking something worth investing in - she is that.
Fast - Hestia delivers faster than just about every spirit.
Associability - Hestia gets the human experience.
She has begun to work with me on family-level resentments and blockages, with noticeable and practical results. I suspect she is excellent in Venusian type blocks and curses.
Zeus
God of Peering-into/as-the-Human-POV
The phrase "this spirit" does not apply to this spirit. This thing felt not like a thing, it felt like a location. A location dependent upon a perceptive creature, to understand that it's location is not within the time and and place orientation of herd-animals. Suppose the time-space orientation of most people could be approximated to a box. If you can operated a bit beyond the box, keep reading!
Finding the self that has always been this perspective, this I perceive.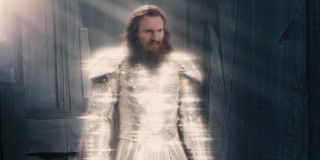 From those eyes, you look down upon a Sea of Glass. This sea of glass is as a river that you somehow walk upon. It flows, seemingly in one direction to the most, but to you, it is still. Time-flow as glass beneath your feet is a valuable motif.
From Zeus(-perspective), you look to this floor. You see gifs. You realize these are not gifs, they are the lives of some of the herd. Why does it loop? Because it is not unique. These lives do not do anything. Work sleep shit repeat. The only difference between most of the herd's lives are face and money.
Zeus has a wild card-quality about it that unsettles me. There is an unpredictability about it, that differs from other spirits.
Jesus' Energy
My experience taught me that we have two Jesus. One is JCI religion-egregore Jesus. The other is "actual" Ascended Master Jesus, I call this "heart of Jesus". The phrase "heart of" is an excellent way to discern the spirits.
Heart-of-Jesus, or Jesus-as-Ascended Master, in-bodies the Quality of Friendliness. Energy workers will channel his energy and form it into a bubble, lasting b/w several hours to a day. This practice taught much about the heart chakra. Recall the Kabbalistic Mercy and Severity. What happens when you swing to far into Mercy?
Excess heart syndrome
Level 1: Helping others' to one's own detriment.
These bleed into one another.
Level 2: Thinking suffering in-and-of-itself is spiritual. This is dangerous because it is poised to become pathological, cancerous. Consider mother theresa withholding available and accessible pain relief from the injured and dying, as suffering brings you closer to god. Here is an example of a cancer dressed in sheep's clothing.
Jesus' energy is quite heretical.
Expectations and your magick
That half second before you speak your first magickal word, the moment just before you begin your magick. That is treasure. At that then expectations rush in. A near imperceptible wind, just beneath the surface of your awareness. Working there can resolve some problems for folks. What a rite can't solve, polarities might…
Sandalphon
I refer to Sandalphon's energy, Heart-of-Sandalphon. This energy has the Quality of Calm. Energy workers apply this in a bubble. It is hard to explain just how useful this is. It's not about laziness. If you think calm = lazy = stagnant = not evolving, this post is not for you, and enjoy your circular mind trap.
The Quality of Calm is as treating emotions and will as outside weather. Specifically, it is about keeping it all around a certain range. 70 degrees fahrenheit, partly cloudy. That is what the Quality of Calm does. For my fire-and-brimstone/explosive evolution/all or nothing/0 to 100 family: your new adversary : In-Between.