This journal is going to be an experiment and a refresher course for me in the art.of putting into practice Hargroves "Practical Djinn Magick" book.
I will be using a visual aid in my workings.
The Djinn altar
This came originally from a Balg member though I don't know who.
The row with knights, rooks, and queens and a King ( 7 pieces) are to represent the Djinn King for each day. Each day you move the appropriate King front and center on the board.
The four pawns at the quarters are the four Elder Djinns
The three bishops in the center are the three Djinn the King gives his orders to.
This is not necessary to practice the magickal system from the book. I do find it helpful though.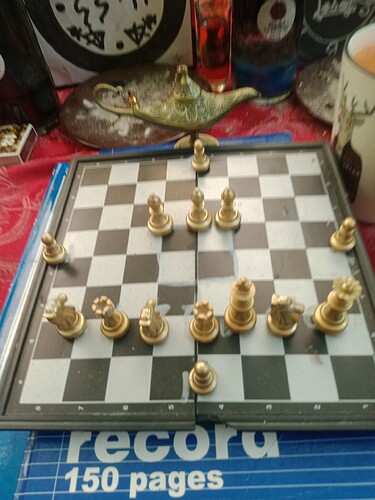 I hope you enjoy this journal and perhaps it motivates you to begin experimenting with the mighty Djinn yourself.
I will be making an entry for each experiment I perform.
Results have to real and tangible or atleast noticable to qualify an experiment as a success.
I'll be alternating Mon, Wed, Fri, one week
And Tues, Thu, Sat, Sun on the alternative weeks.
I plan to experiment 60-90 days in this journal.