The Stone is Lapiz lazuli. Useful for third eye and intuition type activities. No clue what the rest of it means.
Had this for a few years.
It looks like sodalite to me.
Lapis lazuli great stone. Due to color is associated to the moon. It looks Arabic in style and a nightmare to carry. Lol. Nice none the less. I buy my magick rings a jewelry sales in Kmart. I want them to be inconspicuous.
seems like something related with saturnian current.
It is actually Arabic I think. Celestratum Reliquary of the Quinquagenarian Was the name for it I think.
I am a gem collector. Its Lapis. Sodalite is a lighter blue, mottled with white.
The sodalite is the larger one. Lapis the smaller two.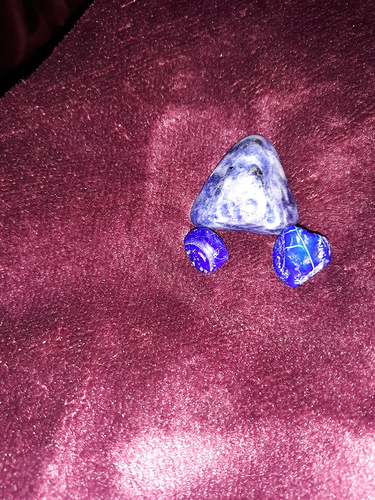 Lapis is saturated with a more stark blue. Sodalite is closer to a denim shade.
I'm going with lapis as well. Which, being a more expensive stone points to the metal being silver. Maybe oriental (tibetan), indian or bali silver judging by the design.

Does it open? Is it a pillbox? …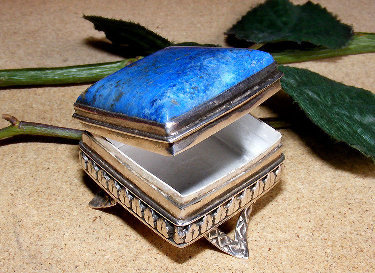 Nope but it's supposed to be a djinn ring. That's a similar design by the pattern on the side of the box
It doesn't open like the box
Sodalite would have more white and is more veined.
Looks rather large to be a ring more like a broach, beautiful piece.
Yea I love it is a solid one
Manly ring! haha. Hope you have big hands.
Actually is big enough for it to fit surprisingly