This ancient technique is used for spirit evocation. It's easy and very effective.
Hope you find it helpful.
What you'll need is a candle. Black, Red or White. You can choose any other color that corresponds with your desire.
Sit in a dark quiet room or at your altar, light the candle, you can burn some incense if you wish. Perform any ceremonial ritual that you usually do before any evocation, if any. Prepare your offering and get ready.
Hold the candle in your hand. As close to your eyes as possible. Be careful! You need to see the candle's flame very clearly. Gaze at the deep burning part of the candle, above the wick. This area :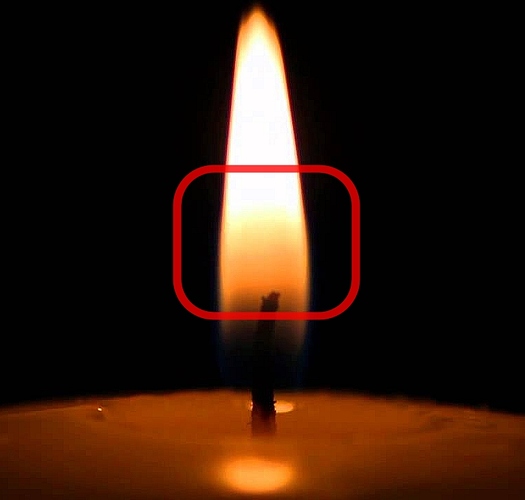 Small birthday candles won't work well, for obvious reasons. Any other candle which is big enough would be perfect.
Chant/repeat the name of the spirit over and over, you can do it in your mind, no need to say it out loud if you can't. Chant while gazing at that area in candle's flame. You need to get the flame really close to your eyes to see things more clear.
After a while, usually takes from 5 to 15 minutes but could be longer, you will SEE the spirit in the flame. It may take the shape of a shadow with a human-like form. Or you could see a crystal clear image of the spirit, as if you're looking at a TV screen or hologram, that's what happened to me when I first used it to contact a dead person. I saw the person ALIVE in the flame, moving, smiling… but you won't hear anything unless you're skilled enough. If you don't see anything after 30 minutes or so, very rare but could happen, you can keep chanting or end the ritual then do it again later.
When you see the spirit, ask for what you want. Say everything you have in mind. Give your offering if you usually do that, then thank the spirit. Get the candle away from your eyes slowly until you can't see anything in the flame. Then blow out the candle.
Do not move until all smoke from the candle is completely gone and you can't see any of it.
You would probably need to remain in your place, meditate for few minutes until you get back to your normal mental-emotional state. The evocation is done.
This technique is extremely effective and could be very dangerous. Do it at your own risk. You should be able to banish negative energies if needed or handle paranormal activities without panic. Don't expect anything bad to happen… but you should be prepared, just in case.