Murmur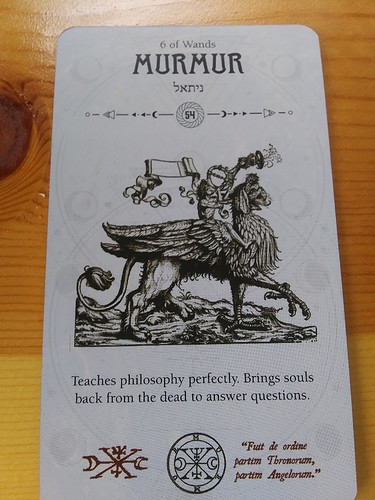 He was indifferent to the incense I had (sent out as intent), but then I remembered the joss sticks I have and he readily agreed to them. As I went to reach for the ones I bought from the Buddhist temple on Oahu, I felt I shouldn't "waste" it and grabbed the Amazon ones instead.
I felt a certain "liking" for Murmur. Likely due to the dead and underworld energies. I've not worked with or called upon him in the past.
---
I've started opening some sigils lately by placing my finger on them, sending a little energy into it to wake it up, then…sort of…pulling it into me to fully activate it and get a sense of the entity behind it. Not something I would try against an unknown or one not well established. It's a calling to and they are not alliwed to come through the sigil directly. I've done that with others (letting them come through). Moving on.
---
He felt like a black…something… Not evil, not malicious. Like a dark tunnel or corridor without any light. This was enclosed by his outer(?) personage or spirit, I'm not sure. He was interested in my reaction and amused. After I wrote that down, he closed it with his robe, like curtains or drapes on a window.
Mu: "Hello."
(The simplicity of the greeting threw me off after the…darkness")
Me: "Thanks for coming."
(Before I got done with the agreement, he let me know it will be done by then (within 2 weeks)).
He accepted the agreement and left.
I kinda like his style.
---
Due to some of the conversations lately about magic and stability, I'm adding in that I've been in ritual for a few hours now, since I didnt leave the state between entities. It's time to ground, center back into "real" life and I'll be back in ritual later for the Helios stuff. Gotta stay grounded or it'll chew you up.