So gonna post a few of the rituals that have been going on replay in my head all day (which was annoying as fuuuuuck
and made me miss a few turns at work

. From what i can figure out the ideas are to use the different aspects/energies of Jupiter.
Still making sense of alot of the other rites that have been whipping though my head all day. 13hour workday plus crazy traffic kinda jumbled up me brains.

Invocation of the king
This is to invoke the energies of Jupiter associated with spiritual sovereignty.
Everyone can preform this from what I can tell, the only difference will be the intensity of experience between practitioners based on development.
So to start all you need is the symbol of Jupiter, physically or mentally held in the mind. Either is fine
Edit. This sigil is the result of another ritual i am preparing for, it represents this specific aspect of jupiter. Either will work for the rites, the only difference i could distinguish was in intensity of energy. If you are newer to planetary magic i would reccomend the starting with the basic symbol of jupiter then moving to the sigil after you are familar with its energies.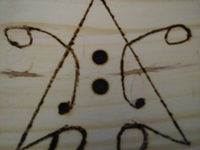 Meditate upon the symbol entering as deep a trance as you can manage. Once this achieved recite the invocation of the king.
"Oh Divine one who dwells in majesty and jubilance
Gracious King of Gods
Who's Laughter is life and lightning
Who remains Merciful in Magnanimity
Bestowing Bounty Boundless and Blessed
Help me to follow you in your ways
and Honor you with my actions
shine your power though me
and bless me with the Wisdom of your Crown"