Hi there! Thank you for reading this!
My mame Is Sandra Barcala, i'm 18 years old and ive been always interested in the spiritual world. I was raised in a Catholic household, then switched to atheism. I've been confused and suffered spiritually because of my family. I'm old enough and I want to change. My eyes opened a few weeks ago, almost a month or maybe two, when I realized that my mind guided me directly to Loki. First, it was through the videogame God of War 4. Which introduced me to a deeper side of Norse mythology (this almost a year ago). From there on, I saw the avengers movies and blah blah blah. I know that are not as close as I'd like them to be to the eddas. But I've been investigating about the God of mischief and been dragged to him directly. I built an altar and I want to be as close as I can (could be gradually or drastic, I don't mind) to my (new) deities.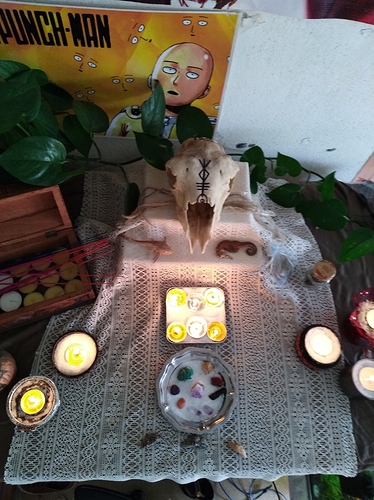 This shrine is not ready yet. I would love to hear how to make it better and more significant. Right now I have it for the pets I've owned and now are in a better place. I love animals and I preserve their bodies as a stronger link to them directly, for showing them love and proving them that that will be always in my heart. I want to also share this link with Loki, my purpose with him is merely as friends for the moment. I want to understand him and prove him he has a friend in me to lean on, and I expect the same.
I barely know anything about how to contact them, or how to meditate… I've read some of the blogs here and I'm super excited, I want to try everything. However, I'm just a begginer. And I want to know what would be better for me and also for the gods to be introduced to each other.
If you have something in mind please leave it on the comments! I appreciate everything you recommend me. Thank you so much for reading and have a marvelous time!