Yesterday, August 16th, I made my way through a portal with Victor the fox (animal spirit guide) to an unseelie court of the queen Mortiana.
I was sitting on the back porch of my house and drew an upright septagram. I placed both hands in front of the septagram and felt the surface of the septagram pulsing and heard a bineural pitch that started low and went higher as the vibration increased, until it opened as a portal. Green fog began to pour out and the interior of the septagram was illuminated with white light.
Several figures appeared in the white light and Victor, my fox animal guide, recommended not going with any of them. Finally a group of short dark green goblins came out in a mob and asked me to go with them. I got up with Victor and we went through the septagram and immediately were in a wood on a trail, full of dead trees under a crescent moon (waning) headed toward a dark castle on a hill. On either side of the trail were horrible sounds of animals fighting, or grunting and moaning. Some of the sounds could have been erotic, but all were extreme. Judging by the rustling we were being followed. We arrived at the castle and I pushed the doors open and entered into a hall. A man sat on a stone throne directly opposite of me. To the left of the throne as I was looking at it was a wide stair winding up and to the right, to the right of the stone throne were some other rooms. The person on the throne was a male elf and he just stared at me. I sensed behind me that some guards were rising to get me so I just lifted my hands and they were turned to ash. The man arose to approach me and I just grabbed him by the throat and told him to bring me the queene. He went upstairs, somewhat surprised and shaken. A beautiful pale woman in a long flowing black dress with a high collar and triple pointed crown came down the stairs and eyed me viciously. I was sitting on the stone throne. She told me it wasn't polite to invade a palace and simply act like I owned the place.
I told her- "My ability establishes my worthiness." She was silent and did not disagree. I got up to be polite and bowed to her saying, "I am a human and I seek refuge in the unseelie court. I would like to abide here awhile and learn your ways. May I?"
She eyeballed me and said, "You are neither kin nor adopted nor invited. Why should you stay?" At that I vanished by becoming the walls in the room, I enclosed her as though she were a prisoner in a box. I then materialized in front of her and said- "I can travel the paths of your ancestors and subject my soul to the blue goblin fires and bear its mark if you like." I then subsumed myself into the earth and felt the death current, the blue flame of the unseelie dead, and let it course through my chakras. I then congealed and arose, before her, blue fire coursing through my veins. She smiled. "How did you learn to do that?" She asked. "By reading and paying attention" I answered.
She then held out a hand and said, "I have a room for you, below if you like." I accepted, the descent down the stairway being in keeping with the infernal path.
I stepped behind the stone throne with her in the lead, and there was an open stairwell leading down. We descended about 30 feet until we came to a doorway. There she asked me my name. I gave her my magick name and it's Sigil and she inscribed it on the door. In return, she gave be a modified rune, blood red with a password. "Anytime you wish to come here, simply focus on this rune, say the password, and FEEL the transport. You will be before this door."
Inside the room was round, with a wood desk in the center. There were some shelves with books and ritual items. The walls had paintings on them that were portals to other realms of faerieland, not all unseelie. There is a black statue of Hekate in there, on the back wall across from the wooden desk. It is lit by lanterns hung from the stone walls and there are candles on the desk.
I thanked her and left. I will need to make a more thorough tour at a later time.
Thus begins a journey into the unseelie court of an unknown elven queene. Let us see where this leads.
Mortiana looked similar, but not the same, as this-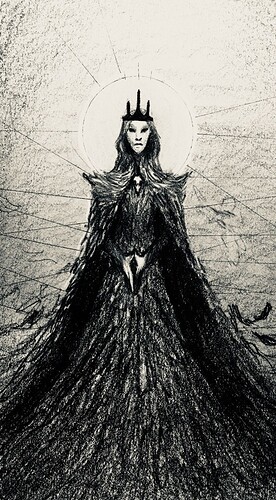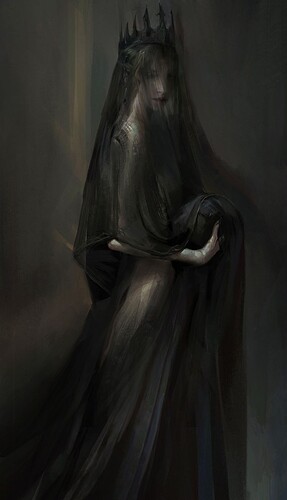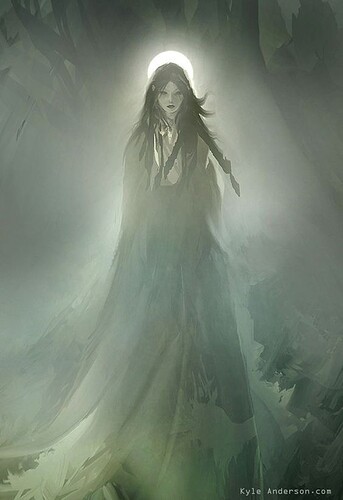 Like all three combined.