Does anyone think if you make a pact with deity's and gods you could obtain immortality?
There are many myths and legends about making a pact and becoming immortal. But when it comes to actual practice it could not be acceded too, no matter what deity or ritual.
We all wish we could live forever or remain young but no matter how strong your castings you will still grow old and eventually perish. But with that growth and age comes wisdom hopefully learning from your mistakes and with that knowledge comes power to control your life and succeed, perhaps where others have failed.
I think you might want to change your title, or your post… Immorality and immortality are quite different things…
I've always felt like I'm immortal. Since I got married to Satan, he's forced me to make drastic changes to my lifestyle that put my health first. I think true self-mastery can produce physical immortality. I assume myself to be immortal. Or at least I'm headed in the right direction to eventually have that perfectly balanced lifestyle that ensures it.
I think you are mistaken I don't see immorality anywhere
The world is a big place and very old so you'd think someone somewhere at sometime had to have found something cause the search has been going on for thousands of years
Monks have lived hundreds of years this way
Of course you don't, because you edited your title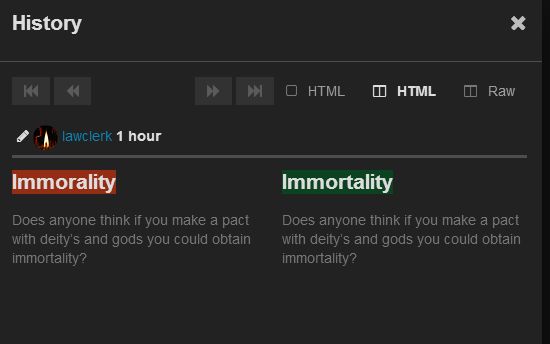 I didn't edit that🙃nor did i check the post for the first 30-40 mins so if i mispelled someone else changed it before i seen
The only kind of immortality that I've discovered is a Taoist method to create an astral body that the soul will enter once the body expires.
There aren't even any myths of immortality in Slavic mythology, except for Koschei the Deathless, because, in his words, "My death is far away: the sea on the ocean, there is an island, on the island of oak, stands under an oak, chest, buried in the chest – a hare, in a hare – a duck in a duck – egg and egg – death my." So, you have to cross the ocean to an island and find an oak tree, and under this oak tree is a buried chest, inside the chest is a rabbit, which will try to flee. If you manage to kill the rabbit a duck will come out and fly away. But if you killed the duck, you would have an egg and within the egg was a needle that Koschei put his spirit in so that he could endure whatever happened to his body and not die. But, Koschei has been dead for a very long time.
Perhaps with Saturn… Although I've read that even him cannot change the past and the reason is that he doesn't want to; in itself is unrelated, but a similar thing would apply to death.
The author writing that, however, also suggested "Ask Saturn to give you time".
Going very Right Hand a close relationship with YHVH caused a few people to be taken in Heaven, this would indicate a spiritual immortality which is already something, I don't know if it was just a way to say they died.
Interesting if he can make time for people do you think hed be able to stop the clock on their life so they stay the same?
Do you guys think that you would be able to let a being into your body to change you on a genetic level?
Maybe it's the same: Saturn wouldn't change the "rules" about time and death, but it's also true that this was the point of view of an occult author… Who knows, it may be possible to at least slow down the biological clock, change some events etc.
I also add Murugan (he appeared to Vallalar and there seems to be a connection with his immortality) and goddess Lilith because she represents the pure polarities + (+) and - (-): a stable reality, so also a stable life.
Kind of a misleading moniker then.

We already have immortality.
I mean physical immortality so then I can continue my research until I have my goal
Yeah, one of his most famous fairytales is "The Death of Koschei the Deathless" true immortality doesn't exist in Slavic mythology, except for the Bogi.
Slava Bogum
Physical immortality is a joke.
Realistically we live on average to 60 years.
Not unless your willing to sacrifice millions like Hitler and Mao.
I love how Jesus and Hitler are Household Names.
I think medical science has got this. We may be able to do stay young and strong for a very long time if these videos are correct! I hope by donating to lifespan.io I help humanity get that much closer to eternal youth, that way we can always stay sexy!