Today was number 32, Asmoday.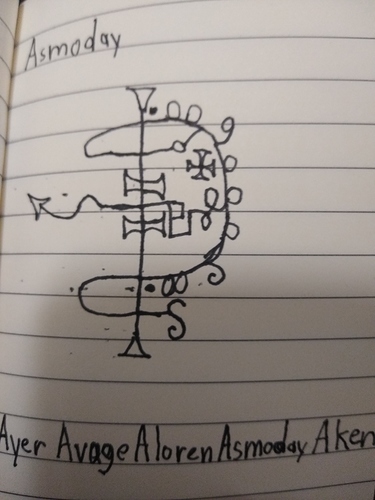 I was a little concerned, because I wasn't sure how this one would turn out. I was warned by someone about 32 being a potential problem, but it went well, if strange.
The preliminary parts went as normal, but then the actual evocation happened. Immediately after he arrived, my sacral started to buzz and I got a half-erection. When I asked him if he knew why I called him, he said this long spiel that could be summed up as sex slave. I quickly played the straight-man and told him exactly why I called him, told the terms of the binding, and completed the binding. During the whole thing, I went flaccid, until he had to kiss the ring, and that cheeky fuck knew what he was doing.
The worst part is, he has ridiculous energy control, I didn't have any muscle seizing at all even though it was a ridiculous amount of energy flowing into the ring.
And as I dismissed him, he gave me a full hard on and chuckled before leaving.
Here's the ring.